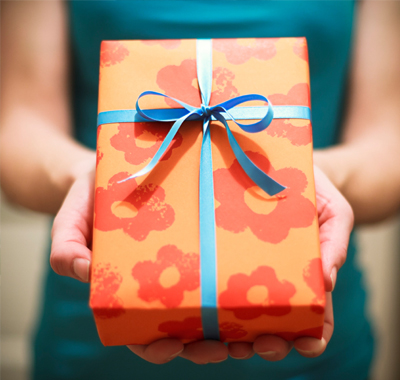 Giving a Woman a Gift – Clues for the Clueless
Giving a woman a gift is not rocket science. Right out of the gate, however, I am going to address the elephant in the room…men are not always the most intelligent gift givers. They give out some of the most lame brained, ignorant gifts ever thought up. The problem is an old one. The Neanderthals probably thought that giving their cavewomen new rocks to ground up grains with was a great gift too. Men simply don't get it and for good reason…their focus is usually a bit off.
Think about it….when men are buying a gift, what exactly is on their minds?
Are they thinking about whether the gift will get them sex?
Are they thinking about how it might benefit them?
Are they thinking only about cost?
Perhaps they are men of rare intelligence…it is rare that they show any.
I kid, but it does make one wonder. Giving a woman a gift is really not all that tough. Here are some tips for the clueless for giving a woman a gift:
If the gift is going to benefit you, odds are it is a bad choice.
When you pick out a gift for your woman, the key is to think about what she loves. This is not an opportunity for you to finally get her that blender she has talked about. You should buy her the blender just because, dude.
If it is see-through, you are probably headed for some trouble.
Lingerie is a gift you get because you want to make her feel special. She will not feel special if you get her lingerie for her birthday. She will see right through you. Save this for Valentine's Day as an add-on gift with something else.
There are few things that belong in the kitchen that should be on your radar.
Do you really think we don't know that you will be eating the results too?
Appliances will get you a black eye.
Giving a woman a gift and getting your laundry done should not be related. This goes for ovens, vacuum cleaners or toasters too.
Find something that she has talked about
Women love using code language but we are pretty direct about certain things. Items we would love to own is on that list for sure. If you have been listening, you already know what we want. If not, then there is no saving you.
Be sentimental but don't be cheap
What is the difference?
Writing your wife a song and then performing it for her on the guitar with a nice bottle of wine at your favorite private spot is sentimental.
Giving your wife a coupon for a kiss is cheap.
Don't confuse the two.
Giving a woman a gift is really about common sense, guys. Think about what they want, consider who the gift is going to benefit and listen to what they have recently hinted at. It really is that simple.
No go buy her something nice.