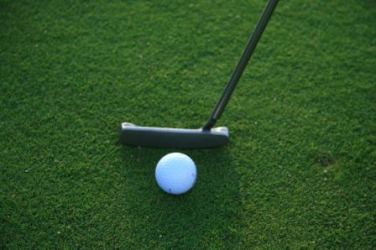 Golfing Etiquette
When you head out onto the green expanse that is the golf course, there are some rules of golfing etiquette that you need to follow.  Golf should be fun and even relaxing.  However, if your relaxation and fun is infringing on the good time of others you will quickly find yourself removed from the course. Here are some golfing etiquette rules to follow when you are hitting the links:
Do Not Play Slow
If you play golf, you have surely been behind a slow golfer at some point in your life.  He or she takes several minutes just to take the stance, is chatting with friends, or even worse, is chatting away on a cell phone.  You stand there waiting and probably losing your focus on the game.  On average, you should grab your club and take no more than 45 seconds to get into your stance and hit the ball.
Keep the Green Clean
Never leave your junk on the golf course.  Bottles, wrappers and all other trash should go with you.  No one wants to see your Evian bottle or Snickers wrapper blowing across the grass when they are concentrating on their shot.  You also need to keep the grass in good shape.  If you kick up any turf, try to replace your divots.  No one wants to fall into a hole and sprain an ankle when they are out golfing and nothing stinks worse than having your ball end up in one. (Unless it is the hole that was intended)
Stay Out of a Putter's Line of Sight
When somebody lines up a putt, you should not be in their line of sight. This includes standing behind that line of sight and walking across that area.  If your ball happens to land here, simply mark it and clear the grass so that the other person can hit their ball.  Anyone getting ready to swing also needs space.  Do not stand close to them.  There is a chance you can get hit and you can also just be a major distraction.
Don't Hit Others
You would think it is common sense, but people still hit balls into crowds. Never hit when people are in your range. Those behind you will understand in this instance that you need an extra minute to ensure safe play.
Keep Your Anger to Yourself
No one wants to see you slamming your club and acting like a two-year-old who just had his ball taken  away.  If you are a bit frustrated, this is fine.  Just do not throw things, start screaming or making yourself look crazy.  This is a quick way to get yourself escorted off of the course.
Good Sportsmanship
You are not going to win every single time.  Even Tiger Woods does not win all of the time.  It is important to be a gracious winner and congratulate those who do win.  You should also shake hands with everyone else that played.  Making friends on the course is always a good thing.  You must also thank and tip your caddies.  They just spent hours hauling around your clubs and this is not an easy job, especially on those really hot days.
Golfing is a very fun sport, but it demands a certain level of etiquette. Follow the golfing etiquette rules above and you will be just fine.
What are some of your best golfing etiquette tips?