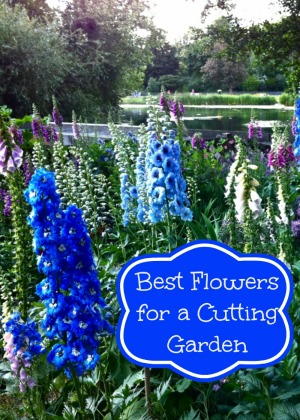 There is nothing like having fresh cut flowers in the house. I don't know about you, but it often brightens up my day as you can't help but smile when fresh flowers are around. Buying them in the store weekly or even monthly can sometimes get a bit pricey. The perfect solution is to plant your very own cutting garden this year. Now you have to remember that since you will be cutting a lot of the flowers, it might not look the prettiest. With a few simple steps, no one will know that you are taking blooms out each week and putting them in a vase in your kitchen.
The key to a successful cutting garden of course is to have killer potting soil or amended garden soil. You want these plants to thrive and produce so don't be shy, add in extra compost, earthworm castings, plus blood and bone meal every 2-3 weeks.
Succession planting is key as well! What this means is that not only plant sunflowers today, but also sow new seeds next week so you are rewarded with blooms week after week. I prefer to use seeds in a cutting garden so I can try out many different varieties of the same type of flower to make my flower arrangements more interesting. Did you know there are over 50 different kinds of sunflowers? Awesome, right?
If you decide to choose transplants or plugs for your cutting garden, still buy one 6-pack this week and then go to a different nursery next week and buy another round of plants. Nurseries receive their plant shipments typically on Wednesdays or Thursdays and you want to make sure the plants you are buying are from different planting cycles so they will bloom at different times.
Plant a variety of both tall and short flowers and stick with a color scheme that you like. Personally, I am a cool shade flower girl and like flowers in blues, purples, whites, and soft pinks with a splash of orange or vibrant fuscia. For this type of garden I would plant Delphiniums, Larkspur and Gladiolis for my tall flowers and Asters, Daisies, Waxflowers for my filler flowers. For the main focal flowers there would be Roses, Gerber Daisies, and Stargazer Lilies. When planting a cutting garden to entice the senses in both smell and sight, plant flowers with blooms in yellows, oranges, and bright red flowers including Sunflowers, Zinnias, Roses, Solidago, Asiatic Lilies, and Celosia.
When you go to harvest your flowers, choose one to two blooms from each plant and cut the flower as far down the stem as you can go at a 45-degree angle. Once you bring the blooms inside, give them another fresh cut before putting them in water. To keep your flowers fresh, they need a fresh cut every 1-2 days and the water needs to be changed out daily.
Most flowers can be used in a cutting garden and those with a sturdy stem like roses will last the longest. Flowers with a hollow stem center like Gerbera Daisies won't last nearly as long when cut.
Enjoy your cutting garden and don't forget to take a moment and smell those amazing roses!
You might also want to check out these gardening tips: