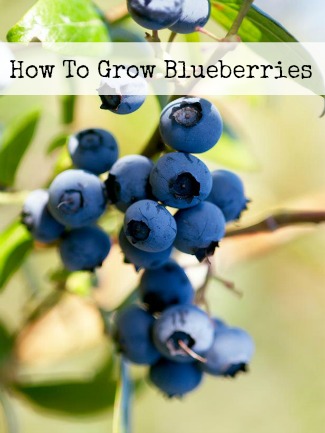 Growing your own blueberries will quickly become your favorite simple pleasure of the summer. The fruit is incredibly sweet and delicious, can be used in so many ways, and boasts a handful of health benefits that makes snacking on them almost a requirement. The plants themselves offer a lot to the garden and landscape wherever they are planted, which acts as a gardening bonus and leaves you with the option to plant along with the rest of your garden.
With a little know-how and knowledge of the needs of blueberry plants, you can be growing a blueberry bush in no time and harvesting blueberries before you know it.
Use this guide on how to grow blueberries to learn about the basics and what you need to provide your new plants.
Preparing the Soil
Its always a good idea to prepare the soil you are going to be adding new plants to according to the type of plants being added. For blueberries this means very moist and acidic soil. This is different than the soil that most other plants need, so you can opt for a dedicated bed for blueberry bushes or designate a corner of an existing bed where you amend the soil as needed. Add sulfur and humus to the soil to bring the pH up and ensure that it stays loose and light, avoid compacting the soil any.
Choosing a Variety
There are so many varieties of blueberries available to grow, and each of them is suited to a different growing region and taste. Shop first for what will grow in your area, checking out native varieties first, and then look among those for the plant that is easiest for a beginner to grow, and produces a harvest that you will be happy with in yield, taste and size. Your best resource is a local nursery where they will have some knowledge about the varieties that grow best in your neighborhood.
Planting Your Blueberries
When you plant you are setting your blueberries up for success, so it is important that everything is done right. Begin by digging a hole two to three feet wider than the container of soil that the blueberry is potted in. Add compost material to the hole and then add your new plant so that it is two inches below the soil line. Cover up the potted soil ball and add a two to three inch layer of mulch around the blueberry bush to deter weeds, insects and retain moisture. Water your blueberry plant well after it has been planted.
Caring for Your Blueberry
In the beginning blueberry plants are very low maintenance, so aside from watering and weeding there is not a lot for you to see do. When the plant buds the first year you do need to remove the buds which will let the plant continue to grow and produce fruit the following year. After three of four seasons of growth, pruning becomes necessary. Prune your blueberry bush at the start of fall of late winter towards the beginning of spring. The way you prune your bush depends on the variety that you have chosen, with some needing to be pruned to the ground and others pruned severely but not as low. Consult the pruning instructions that come with your plant to ensure that you are always pruning properly and not harming the plant. Regular pruning ensures that you will be able to harvest berries each and every year.
Harvesting
Blueberries taste best when they are fully ripe, and this is actually the best time to harvest them. Blueberries will fall off into your hand when they are ripe for the picking so it is best to have a sheet or other piece of fabric placed on the ground to easily collect and carry the berries. A good harvest will probably leave you with more blueberries than you can eat and use before they begin to overripen so freeze bags of your harvest for up to a year without losing any flavor.
Don't forget - once you harvest your blueberries to check out the blueberry recipes that I have posted!