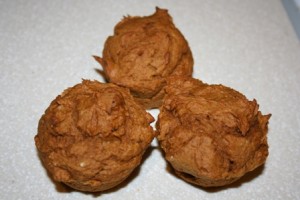 Seeing as it is the first day of school for my boys (one is going in to 2nd grade and the other starts Kindergarten), I got up early this morning and made their favorite breakfast.  I wish that I could claim credit for this recipe, but anyone who has been on Weight Watchers in the past two years should recognize it as the fabulous 3-point HUGE muffin recipe that got everyone so excited when it first came out.  They don't look pretty (unless you take the time to smooth out the batter before baking...we go through a batch so quickly that nobody notices what they look like) but they sure do taste good!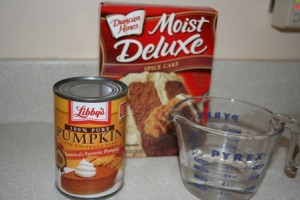 Ingredients:
1 Spice Cake Mix
1 can pumpkin (NOT pumpkin pie filling)
1/2 cup water
Directions:
Mix together.  Batter will be very thick.
Spray a muffin pan with non-stick spray and divide in to 12 muffins (do not use paper liners - there is not enough fat in this recipe to keep them from completely sticking to the liners!)
Bake at 350 for 16-18 minutes or until inserted toothpick comes out clean
Yes - it's a cake mix.  But there is no more sugar in it than any commercial muffin mix and you have the added benefit of the fiber and vitamins in the pumpkin. 
Variations:
Add some pecans, cranberries or shredded carrot
Use chocolate cake mix for delicious choco-pumpkin muffins.  Go completely decadent and add mini-chocolate chips
Can't find spice cake mix?  Use a yellow cake mix and a 1-2 tsp Pumpkin Pie Spice
Make them mini-muffins and have them as a snack when you need just a little something sweet!
Cost:  about $2.25 for the batch
Make 'em cheaper:  In about 3 weeks, pumpkin will go on & off sale until Thanksgiving (and coupons should start appearing as well).  Canned pumpkin has a shelf life of 2-3 years.  I usually stock up once it is 10 for $10!  As for the cake mix?  Duncan Hines is the only brand of Spice Mix that my stores carry.  I am ALWAYS looking to use my coupons for these!