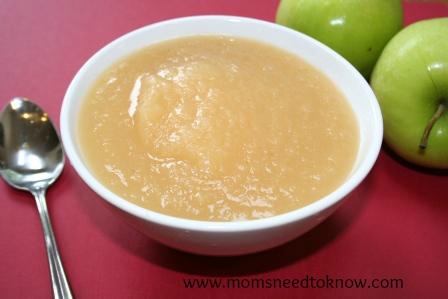 With apple season coming, apples are super-cheap and plentiful! One of the easiest apple recipes you can make is homemade applesauce! You can make it on the stove top in under an hour with very little effort!
The best part about making your own homemade applesauce is that you can not only control the ingredients, but you can control the consistency and even customize it to the members of your family, depending on how they like it. Does your teen like it with cinnamon, but your toddler likes it bland? Simply divide up the finished batch and customize away! Do you have a baby in the house? Simply blend it a little more until it is the consistency of the premade baby applesauce that you buy in the stores (freeze it in ice cube trays for perfect-sized portions for your baby!).
Homemade applesauce can even be made in your crock pot/slow cooker. Simply reduce the amount of water by 1/2 cup and cook on low for about 4 hours or until the apples are the right consistency!
:: Homemade Applesauce Recipe
Ingredients:
4 lbs apples (make sure to use good "cooking apples", such as Macintosh, Braeburn, Gala, Granny Smith, Jonathan or Jonagold apples. Do NOT use Red Delicious)
juice of 2 lemons (about 1/4 cup)
4 strips of lemon peel (use a vegetable peeler to make larger-size strips - you want to be able to pick them out easily once the apples have cooked)
2 cinnamon sticks (optional)
ground cinnamon - 1/2 tsp to 2 tsp (to taste)
1 1/4 cup water
Directions:
Peel, core and slice apples (if you want to do it quickly, you can always use one of these)
Put all ingredients in to a large pot (if using ground cinnamon, hold that back). Cover and bring to boil.
Lower the heat and simmer for 20 - 30 minutes.
Remove from heat. Remove cinnamon sticks and lemon peels.
Run the apples through a food mill or mash with a potato masher or blend in the blender to the desired consistency (if using ground cinnamon, add it at this time).
You can add brown sugar to taste when you are processing the apples, but you probably won't need it!
And that's it!  You have healthy and wholesome homemade applesauce!