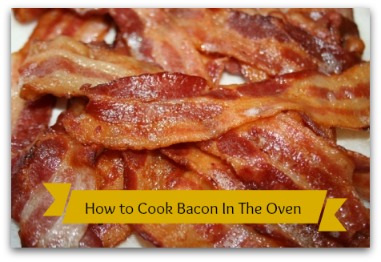 I have a family of bacon-lovers. It's not my first choice of foods, but my husband and boys would eat it every day if they could (or I would make it). One of the reasons that I don't make it that often is that I hate having to scrub down the stove after I make it. The grease splatters everywhere (including on me) and I always seem to get hit with a random "pop" of grease. My husband always tells me to just cook the bacon in the microwave, but I try to avoid using our microwave for anything but reheating food and it seems that the bacon never gets crispy when you cook it in there.
I had heard of people who do cook bacon in the oven and I decided to give it a try - and I will never cook bacon any other way again! Not only was I able to cook an entire pound at once, I didn't have to really watch it and I didn't have to flip it. Unlike when you cook it on the stovetop, there is no splattering when you cook bacon in the oven. The bacon just happily bubbles away for about 18 minutes and turns in to the crispy bacon that so many people love!. Cleanup is a breeze as long as you take my advice and line your baking sheet with foil - just carefully roll up the foil and throw it away along with all the grease!
So without further ado: How To Cook Bacon in the Oven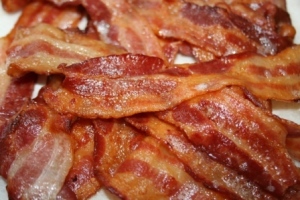 Ingredients
1

lb

bacon

aluminum foil

jelly roll pan or cookie sheet with raised sides
Instructions
Preheat oven to 400F

Line your baking sheet with foil, letting the foil extend up. This will make cleanup easier later

Arrange bacon in a single layer on the foil. Do not overlap the slices or they will stick together when they cook. Use 2 baking sheets if you need to - you can cook both at the same time!

Place baking sheets in the oven

After 12 minutes, remove baking sheets and pour off some of the bacon grease (you can also use a paper towel to soak some of it up).

Return baking sheets to oven

After another 5 minutes, check the bacon for doneness. Continue to bake until bacon reaches desired crispiness.
Have you ever tried to cook bacon in the oven? Did you like it?