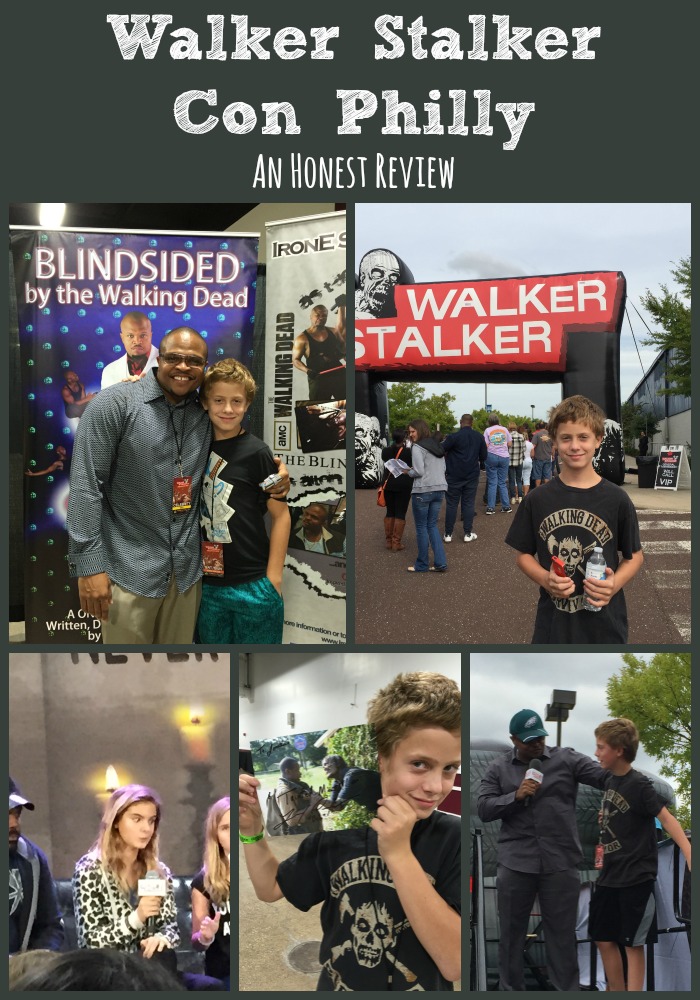 Last weekend was a strange one.  Most of our weekends are about laundry, me cooking and photographing recipes for this site, going to church , chillaxing and just having "lazy days".
But this weekend, Jonathan (my middle child) and I were all about zombies! I am not ashamed to say that I am a HUGE Zombie fan…and this weekend was "zombie nirvana"
I wish I had more pictures for you from the weekend, but the "celebrities" have placed restrictions on what they will allow their dedicated fans to have unless they pay.  Yes – you read that right- if you are a fan and that person has a career based on you being a fan, you can't get a picture with them unless you pay for it!

We attended Walker Stalker Con in Oaks, PA (outside of Philadelphia) and I have to tell you – it was one of the best weekends we have had in a long time!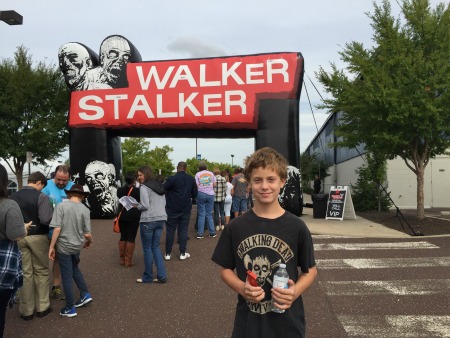 We bought our passes on Groupon and Jonathan was initially excited, then kind of annoyed at me that I didn't buy the more expensive tickets ($300 – $400 each as opposed to the Groupon deal that I got for $50 each) that would guarantee access to certain celebrities. As soon as I told him that we could just skip the whole thing if he was going to complain, he changed his tune (never be afraid to sacrifice $100 if it will teach your child a lesson in gratitude!)
Let me tell you – we didn't need them to meet the stars of the show (your mileage may vary by location).  VIP's were let in at 9:00am.  General Admission (what we had) were let in at 10:30am and by 4:00pm, everything had been cleared out enough that we could really just walk up to any cast member and do a "meet and greet" with them
The Good of The Weekend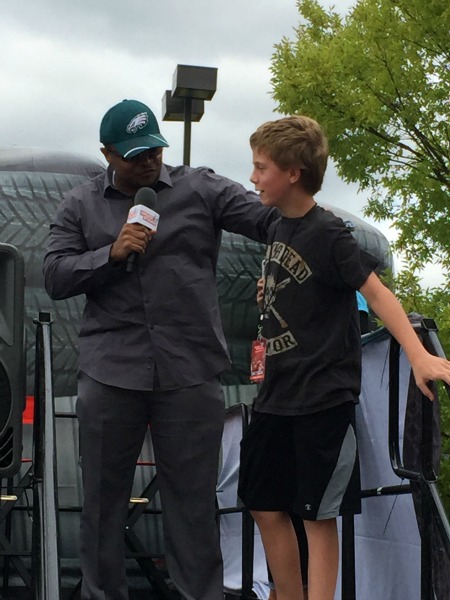 Funny story – we were watching an interview with IronE Singleton (T-Dog) and as he was giving his closing remarks, he talked about how we just needed to love one another.  I clapped, because it seemed like an "applause line" (and I do believe in what he was saying), but I was the only one clapping. IronE noticed that and asked who did it.  I pointed to Jonathan (who would have done it if he wasn't so star-struck) and T-Dog asked him up on the stage for a hug. That made my son's day!
Meeting Father Gabriel (Seth Gilliam) – let me tell you – when I asked him how he could take down a Walker in his lily-white outfit and then return to Alexandria without a speck of dirt or blood on him, his explanation blew.my.mind (I assumed it was an editing mistake – yeah – there is meaning to it – it wasn't an editing mistake! The man is DEEP!). I think you are going to want to watch Season 6 for more info!
Avoiding Gareth – I SO wanted to talk to him (Jonathan was convinced that he was going to slit his throat and eat him). Every time we walked by his booth and he had a short line, I tried to get Jonathan to talk to him….but he was just too freaked out!  Maybe next time!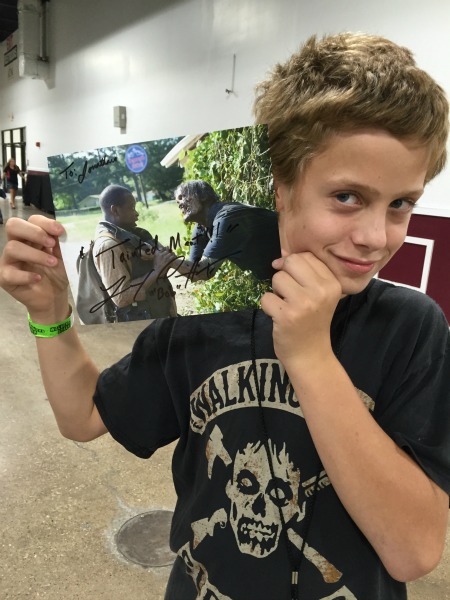 Meeting Bob – you want to talk about a guy who can relate to kids and is genuinely appreciative of his success?  Let's talk about Lawrence Gilliard Jr.! I tried to talk Jonathan away from paying for any autographs while we were there (I never understood the value of collecting autographs), But "Bob" was so stinkin' awesome that Jonathan begged me to spend the $40 – and I let him.  It was the only autograph that he paid for the entire time. And let me tell you – he carried that photo around for the rest of the day like it was the Hope Diamond.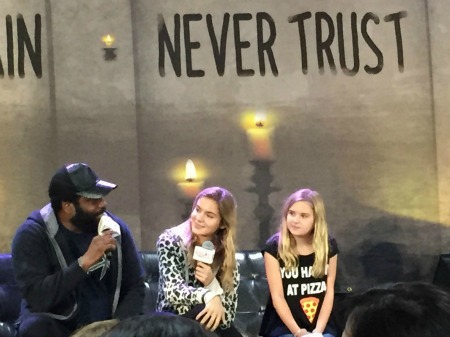 The Tyrese/Lizzie/Mika panel (and all the panels, really) – if you have never seen Mika (Kyla Kennedy) on a panel, she is just so stinkin' cute!  There was one time during the panel that some whack-a-do dressed as Carol tried to force them to eat cookies (who knew what was in those?)…and they handled it with Grace,  Pretty impressive for ones so young! "Mika" even said that she wished she would have died by saving Darryl's life – because then she would have been America's Sweetheart (that got a HUGE round of applause – everyone loves Darryl!)
The Bad:
The people who backed out – "Darryl" and "Glen" both backed out at the last minute.  I am assuming it was because of the Pope-frenzy going on on Philly at the time (although honestly, getting to the venue from the airport wan't hard.  What was hard was finding a hotel that was nicer than a Hampton Inn in the area!). As a General Admission ticket living 12 minutes from the venue, it didn't make that much of a difference, but there were people who paid for those VIP passes for those specific celebreties and, once they cancelled, they didn't get a refund – just a credit to a different and possibly less desirable celebrity
The "Selfie Fees" – This seems to be a new "thing" in the last 10 years…stars wanting us to pay them for 90 seconds of us telling them how awesome they are, and then a selfie. Yeah…ummmm……. NO!  I have paid for cookbooks at book signings (and they always included a selfie)…and I have met many stars through my site. I don't like this trend – it used to be that stars were just appreciative that someone wanted to watch their ass on TV or movies!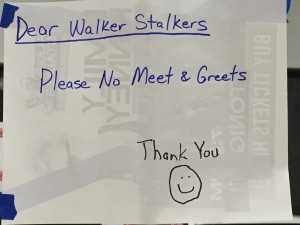 The "No Meet & Greet" Signs – yeah – you know what?  You are at the Con because you have fans from your show. What better way to appreciate your fans than by telling them that they can't meet you unless they pay?  I know that I keep harping on this, but it REALLY bugs me!
The security blocking you from taking a pic from 30 feet away – it is NOT the fault of security  – but when Emily Kinney's people said "no free pics of Emily" and then proceeded to put up "no pics" signs as well as red security tape?  I lost all desire to meet her, much less even look at her!  Jonathan and I left on Saturday to have lunch and when we came back, about half of the actors had the "no pictures" signs.
Look – I get why they now charge for autographs.  Celebrities didn't charge when I was growing up, but that was before the days of eBay.  But when a 12-year old boy just wants a pic of an actor from his favorite show? C'mon……
But we need to circle back to IronE Singleton (otherwise known as T-Dog) and keep it positive, because I can't begin to tell you how much joy he brought to Jonathan's life.
So there was that hug on Saturday – but we had 2-day passes and Jonathan wanted to go back and talk to "T-Dog" again on Sunday. T-Dog's death was one that he honestly had jumped on the sofa and screamed "NO" while it was happening. He was willing to pay the "selfie fee"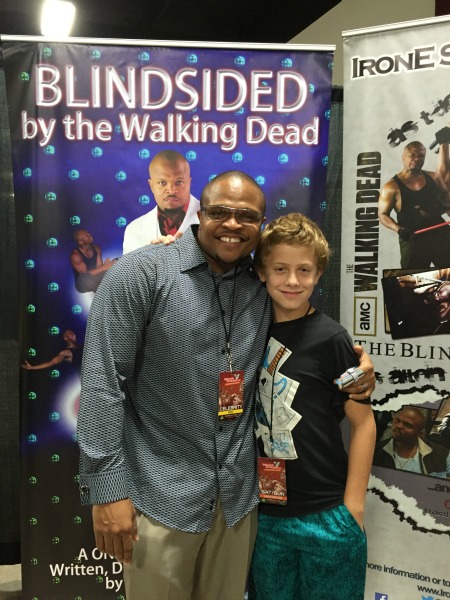 And when Jonathan walked up to him and IronE recognized him from the day before?  Jonathan is still "walking on air"
So thank you T-Dog – and thank you Walker Stalker Con. Jonathan told me that this was the best weekend of his life. He is 12, so a zombie convention when he is 12 may not have an everlasting influence on his life.
But he still thinks that I am the BEST MOM EVER for buying the tickets and taking him to it.
And that is enough for me…..