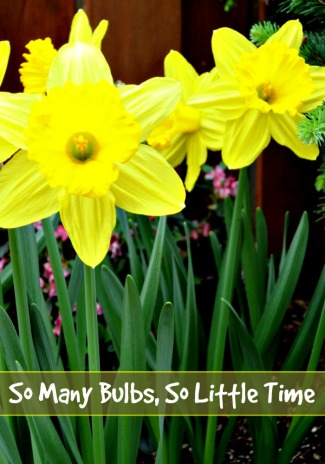 If you are like most backyard gardeners you have a list a mile long of different plant you would like to see blooming in your garden. I bet a few of those favorite blooms come from bulbs. There are so many bulbs, yet so little time to plant the thousands of varieties that you can find. How could you possibly just choose one or two to have blooming in your garden this fall or spring? The best way is to choose a color palate for each season and rotate that every couple years so you get a chance to see new and different flowers every season.
Since we are getting close to the time to plant Fall bulbs, you need to think about what you want out of your bulb garden!
Within each main category of bulbs, there are many different types or varieties in the species. If you wanted just a huge yard of tulips, you will have to decide a few things first. What colors do you prefer, the shape of the petals, and even if you want it to have a slight stem. The most common tulips are those that are one color and are your standard tulip. But you can also find ones with feathered tips, bicolors, and even some that seem to have every color of the rainbow on them. So hard to choose!
For those of you that like your garden to have a heavenly scent, then there are a few bulbs that need to be on your must plant list. Hyacinths, Paperwhites, Lillies, and Alliums are the top ones that come to mind. Hyacinths, Lilies, and Paperwhites have a sweet scent that quickly overpower a space so make sure you like the scent before you plant a whole garden full of them! Alliums smell more like garlic and repel a lot of insects, so they are a great addition to your garden.
For blooms that last a long time, make sure to plant Gladiolus, Amaryllis, and Daffodils. Whereas Crocus and Daffodils pop up and show off for a little bit before the next round of blooms wants to show their pretty faces.
Since bulbs are easy to propagate, you are never without a new variety to try out in your garden. Happy bulb hunting!
And be sure to follow me on Pinterest for more ideas!