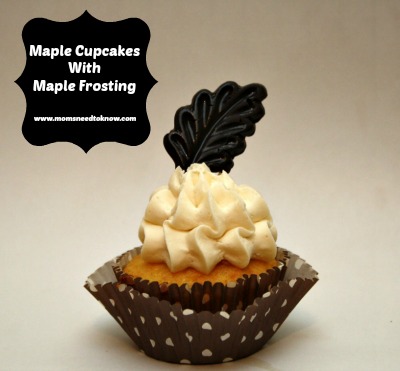 When the weather starts to cool down, few things scream "Fall!" as much as the flavor of maple. I am always looking for the best cupcake recipes that I can find and this one is perfect for entertaining because it is a  It's just the perfect taste on a chilly day. Pair the maple flavor with a cup of tea and you have an absolutely fabulous dessert.
Maple Cupcakes with Sweet Maple Frosting
For the cupcakes:
3 cups all purpose flour
3 teaspoons baking powder
1 teaspoon salt
1/2 cup butter, slightly softened and cut into chunks
2 tablespoons vegetable shortening, room temperature
2 cups pure maple syrup (NOT pancake syrup)
3 egg yolks
1 large egg
1 1/2 cups whole milk
For the frosting:
3/4 cup unsalted butter, softened
12 ounces cream cheese, softened
4 cups powdered sugar
2 tablespoons maple syrup (NOT pancake syrup)
For the leaf:
To make the cupcakes
Preheat the oven to 325F. Line muffin tin with liners; set aside.
Mix flour, baking powder, and salt in a medium sized bowl.
In a large bowl, beat butter and shortening, until it makes what look like ribbons. Place mixer on low, and pour in maple syrup. Turn up to medium high and continue beating for about 2-3 minutes.
Pour egg yolks, and whole egg in individually, and beat until thoroughly mixed. Be sure to scrape the sides and bottom of your bowl, to get all of the mix combined into the mixture. Pour in half of the dry mixture and continue to mix on low until completely combined. Pour milk into mixture. Add the remaining flour, mix.
Bake for about 22 minutes or until toothpick comes out clean. Cool completely before frosting.
To make the frosting:
Using an electric mixer, beat your softened butter and cream cheese until smooth.
Add sugar and maple syrup and beat until the mixture is smooth.
Do not overbeat the frosting!
Make the cupcakes pretty by using a piping bag and tip to ice your cupcakes
To make the leaves: simply melt the chocolate and pour into the mold.  Allow to cool before adding to the top.
And there you have it! Fall cupcakes that are delicious and oh-so-pretty!