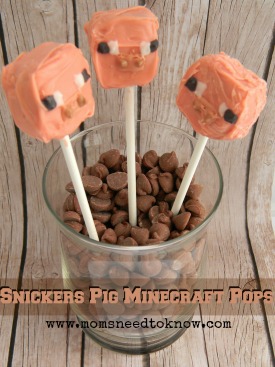 Minecraft has pretty much swept the nation (the world?) and if you are looking for some Minecraft party ideas, these Minecraft Pig Pops can be a great treat to serve your guests!
Snickers Pig Minecraft Pops
Supplies
Snickers Bite Size (Dollar Tree has them)
toothpicks
Note: If you do not want to buy different color melts, you can just buy the white candy melts and the candy coloring.
Directions
Unwrap Bite-Sized Snickers. Push the lollipop sticks almost all the way through the Snickers. 
In a small size microwavable dish, melt about ½ cup pink candy melts according to the directions on the bag.
You can just dip the Snicker into the melted candy, but I have found you get a smoother surface by using the back of a spoon of the flat side of a butter knife to smooth it over the Snickers. 
Coat all sides lightly and allow to harden, by placing them upright in a glass, so they are not touching anything.
After the pink coating has hardened, give them a second coat just like the first to be sure to cover any remaining brown that is showing. Again place upright in a glass and allow to harden.
In another microwavable dish, melt a spoon full of the pink candy melts along with a 2 chips of brown.
Using a toothpick paint a rectangle in the center of the flattest side. 
Melt a few chips of the white.
Use another toothpick to paint on the white part of the eyes. Start at the top edges of the nose and make a small square. 
Now melt a chip or two of the brown and make two small squares on each end of the rectangle nose.
Melt a few chips of black and with another toothpick make a small square on the outside of the white eyes. 
Allow all candy to harden and serve!
And that's it! They may not look like much to us grown-ups, but believe me, if you have a Minecraft fan in your house and you are looking for some Minecraft party ideas, they will instantly recognize these Minecraft Pig Pops!