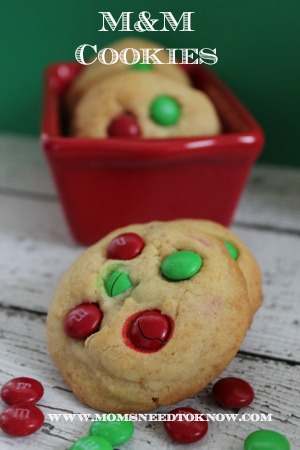 Sometimes the simplest recipes are the easiest and most crowd-pleasing. This m&m Cookies Recipe is sure to please everyone! I really do like to make about 10 different cookies each year and put together boxes of cookies to give out to friends and family. Some of the cookies will be more complicated and "gourmet", but I also like to have more "basic" cookies. Not everyone might like popcorn balls or cookies with hazelnuts, but everyone should like a basic M&M cookie recipe!
If you aren't yet using parchment paper when you are baking cookies, you need to start!  I grew up baking with my mom and, as much as I love her, I wish she would have taught me about parchment paper!  It helps to control the "spread" of your cookies so that they bake evenly and makes clean-up a breeze!
Hennyway, these M&M cookies make a great addition to any cookie tray, or just for a fun afternoon baking with the kids!  To make them, you will need:
1 cup M&M's
2 cup Flour
1 tsp Baking Soda
1/2 tsp Salt
1/2 cup softened Butter
1/2 cup Shortening
1/2 cup sugar
3/4 cup Brown Sugar
2 tsp Vanilla
2 Eggs
Directions:
Preheat oven to 350.
Line a baking sheet with parchment paper.
Cream together butter, shortening, sugar and brown sugar.
Add vanilla and eggs and beat well
Mix flour, baking soda and salt.
Combine dry ingredient mixture into wet ingredient mixture until completely mixed.
Gently fold in M&M's.
Using a cookie scoop, place approx tablespoon size drops of mixture onto parchment paper-lined cookie sheet.
Bake about 10 minutes until the edges are lightly browned.
Cool on wire rack.
What are your favorite cookies to make for Christmas?