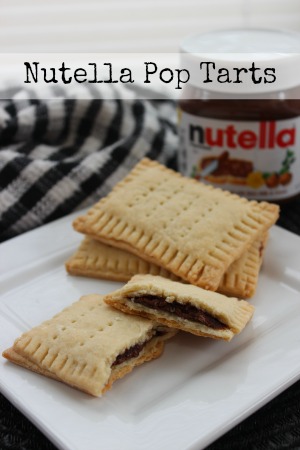 My children are big fans of Pop Tarts, but I don't like buying them that often - they are just too full of sugar and chemicals. But I don't like to be a total downer, so homemade pop tarts are a nice compromise. They are so easy to make and can really be filled with other things besides Nutella - chocolate, fruit jam, peanut butter, fluff...pretty much anything that can be spread smoothly!
You can make the dough using a traditional pastry cutter or, if you have a food processor, you can easily use that to cut the butter in to the dry ingredients. I would then remove the mixture (it will look like pebbles) from the food processor and add the milk and egg in to the dough by hand. You don't want to over-mix this dough or it will be tough and not at all flakey like a pop tart should be!
To make this homemade pop tarts recipe, you will need:
Ingredients: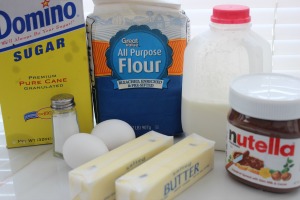 2 1/2 cup Flour
1 tbsp Sugar
1/2 tsp Salt
1 cup Butter
2 Eggs
2 tbsp Milk
9 tbsp Nutella (or filling of your choice)
Directions:
Cut butter into small cubes.  Combine flour, sugar and salt in a large bowl.
Work butter into the flour mixture with a pastry cutter. (or in a food processor)

 

Whisk together one egg and milk and add to the flour mixture.
Knead until ball forms.  DO NOT OVERMIX!
Turn dough out on to floured surface and knead for 1 minute.  

Refrigerate dough for 30 minutes.
Preheat oven to 350.
Divide dough ball in half.
On floured surface, roll out dough into a 9" × 12" rectangle.
Cut into 9 rectangles (or you can use a rectangle cookie cutter to make sure that they are all exactly the same size)
Repeat with other piece of dough.  

Make an eggwash by beating the remaining egg and brush over entire surface of first 9 rectangles.
Place a tablespoon of Nutella on top of each egg washed rectangle and spread. Be sure to leave 1/2" of uncoated dough around edges.
Place a rectangle on top of filling and press with fingertips to seal around edges.
Use the tines of a fork to seal all around.
Poke top with fork to allow steam to vent.
Place on parchment lined baking sheet and bake for 25 minutes or until lightly browned.
Cool on wire rack.
Have you ever made homemade pop tarts?