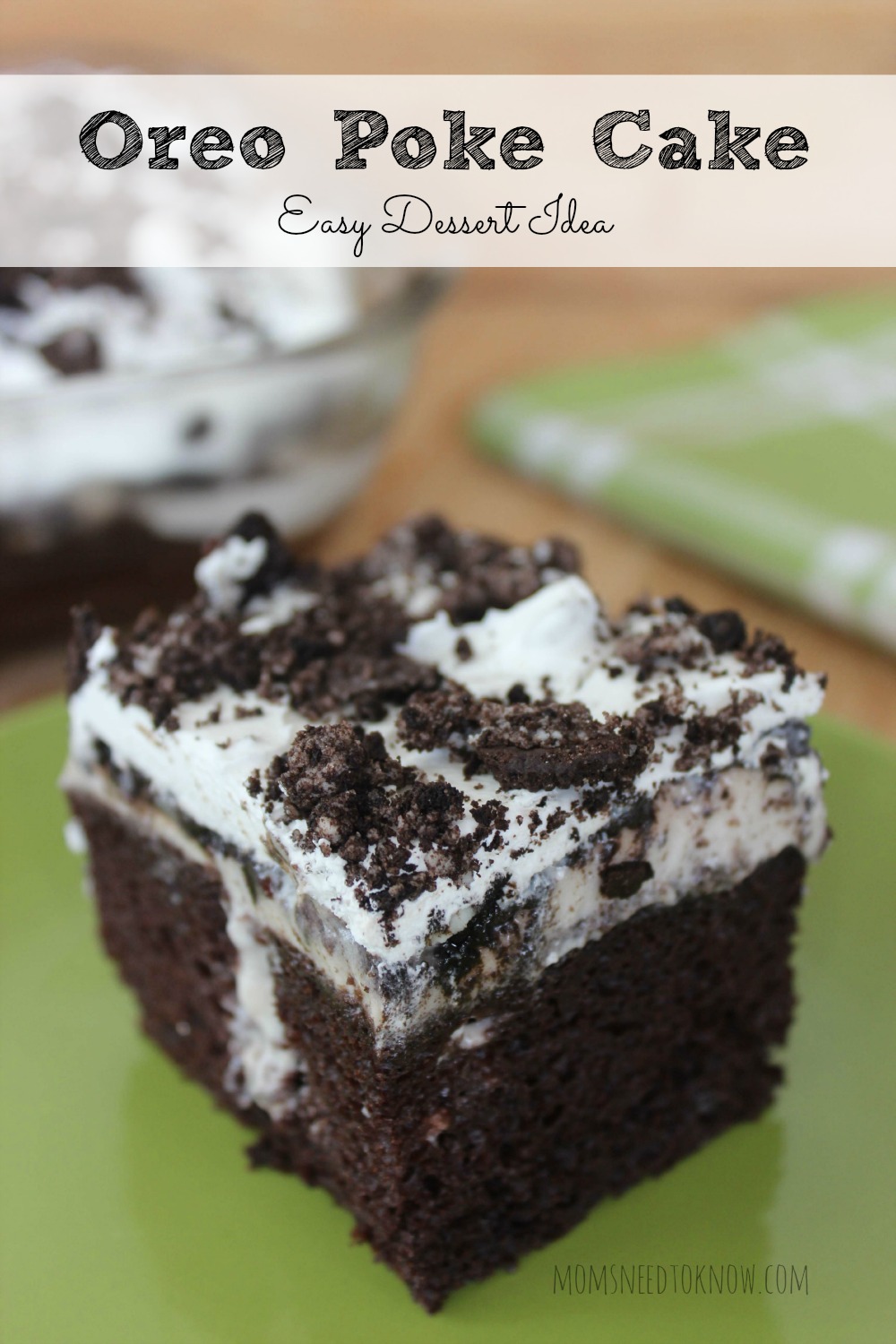 .
I still remember the first time I ever even heard of a "poke cake". I was about 14 years old and our family was in Indiana staying with my grandparents the week between Christmas and New Years, as we did every year.
My grandfather said that he had tried this recipe and was making it for us. I watched in confusion as he baked a cake and then punched a bunch of holes in it and then poured a super-sweet mixture of sweetened condensed milk, crushed pineapple, chopped up mandarin oranges over top of it...and then topped it with whipped cream, coconut and even more oranges. Looking back on it, I can't believe that I didn't immediately get diabetes within minutes of eating it but...oh man! It was good!
Since then, poke cakes have become more popular. My children loved the Orange Creamsicle poke cake that we made this summer, but they liked this Oreo Poke cake even more! As you know, my family is a big fan of any recipe that contains Oreos and this is an easy recipe to make for dessert any night of the week or even to take to a party.
You do need to make it a little bit in advance in order to give the pudding time to soak in to the cake, so don't wait until the last minute to make it. Additionally, when you are mixing the pudding mix, make sure to just mix it until you get all the lumps out, but not so much that it starts to thicken. If you mix it too much it won't soak in to the cake, but rather just "lay there" on top of the cake!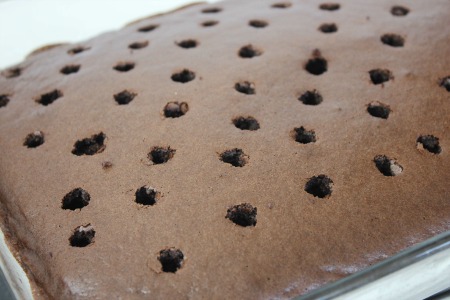 Lastly - make sure to poke enough holes in the cake so that the pudding really gets in to the cake (see above). The more holes you poke, the moister your cake will be!
Make this Oreo Poke cake with chocolate or vanilla pudding!. I prefer vanilla because I like the contrast of colors when you slice it, but my kids prefer the "chocolate overload" taste of using chocolate pudding!
Scroll down for the complete directions!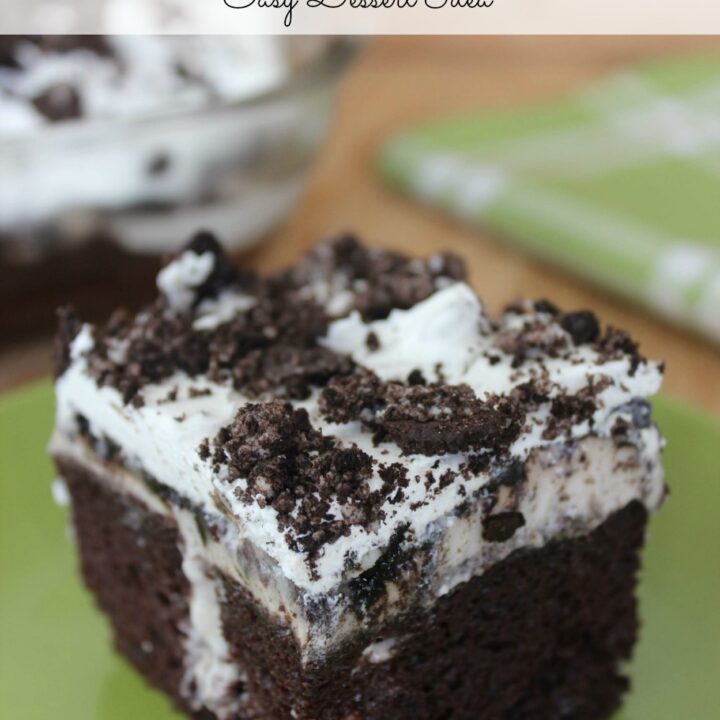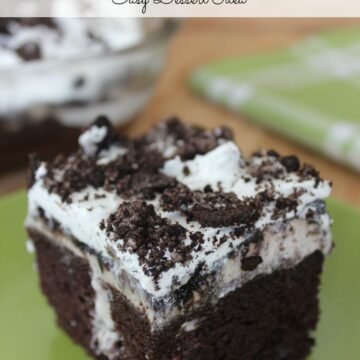 Ingredients
1

box Chocolate Cake Mix + the ingredients to make the cake

1/2

pack of Oreo Cookies

1

large box instant Oreo Pudding

chocolate or vanilla - whichever you prefer

2

cups

milk

8

oz

Cool Whip
Instructions
Preheat oven to 350.

Chop up the Oreos into large pieces.

Prepare the chocolate cake following box directions.

Butter the sides and bottom of a 9x13 baking dish.

Pour batter into prepared dish.

Bake for 30 minutes or until a toothpick inserted in the middle comes out clean.

Whisk together milk and pudding mix just until smooth. Do not stir it so much that it starts to thicken!

Poke holes all around the top of the cake.

Pour pudding evenly over the cake to allow it to soak into all of the holes.

Sprinkle the top with about half of the chopped Oreos.

Allow to cool completely.

Top with whipped topping and sprinkle with remaining chopped cookies.

Refrigerate for at least 1 hour.