For an easy weeknight dinner, look no further than this pasta with sausage and baby greens. So easy to customize to your family tastes!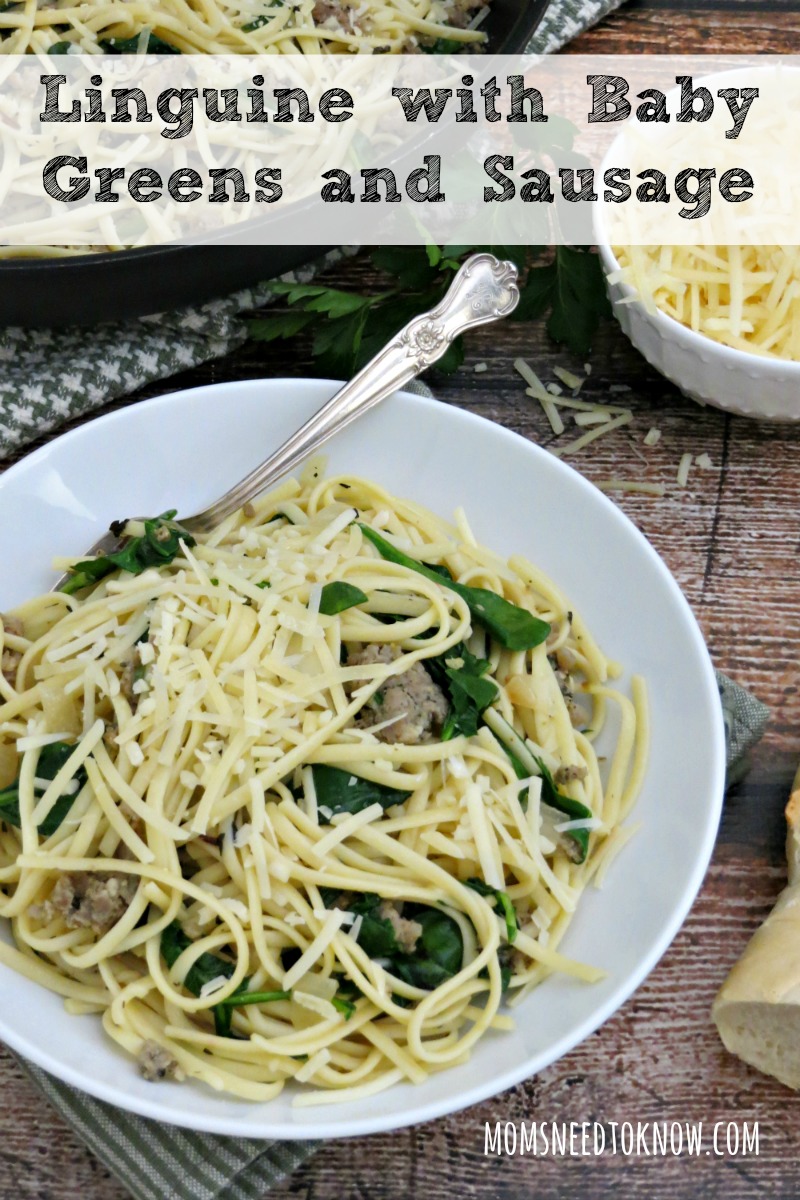 Pasta has always been one of our go-to meals in our house, but we long-ago "outgrew" just a simple pasta with marinara sauce.  My children might prefer that, but you get to the point where you need more "adult" pastas in your life.
This pasta with sausage and baby greens has to be one of the easiest pasta dishes that I have ever made and it packs a bunch of flavor in each bite (and a great way to get your greens in you). Unlike my penne with vodka sauce, the sauce for this dish is incredibly light and won't weight you down.
I strongly suggest using a good quality pork sausage. I use Smithfield All-Natural, which is surprisingly low in fat. In fact, I didn't even have to drain this. To lighten this up even more, you could also use ground chicken or turkey sausage.
I seasoned up the sausage with lots of Italian seasonings, which is a great tip for when you are out of Italian sausage. It's really important to let the sausage sit for at least 30 minutes before cooking it so the flavors can combine. I actually prefer to let it sit a little longer when I can, even overnight.
I like a perfectly al-dente pasta, so I undercook my pasta by about two minutes. Since the pasta ends up cooking in the pan for a couple of minutes, this helps prevent it from being overcooked.
Anytime you add freshly grated Parmesan cheese to hot pasta, you want to incorporate it a little at a time so that it blends evenly and doesn't clump together.
You can use any kind of greens you want.  I also like to make this with just plenty of baby spinach! Baby greens cook in a matter of minutes so if you use larger ones, you'll have to adjust the cooking time accordingly.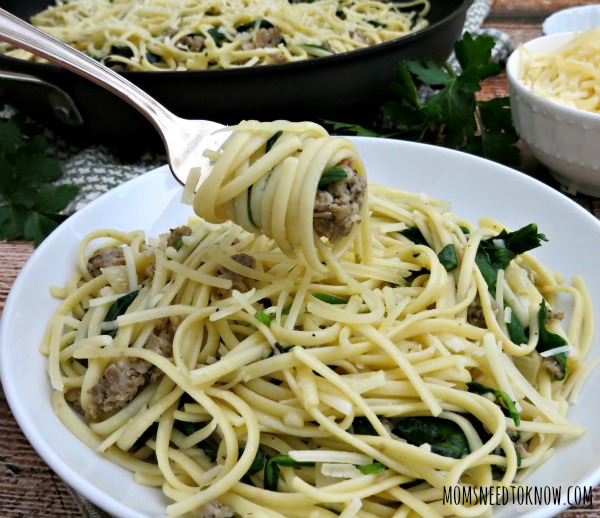 If you want to spice this up, you could add some red pepper flakes.  You really can customize it as much as you like!
The water that the pasta cooks is a little starchy, which helps the sauce coat the pasta, but it's not absolutely necessary. Sometimes I use 1/2 cup of chicken broth instead of the water for a little added flavor.
Scroll down for the recipe!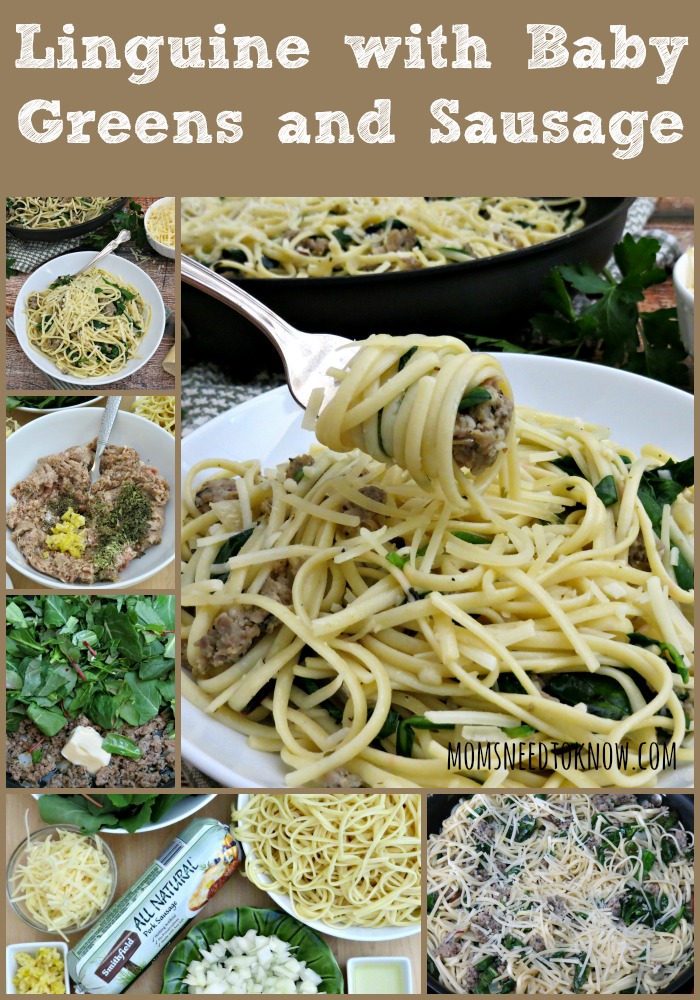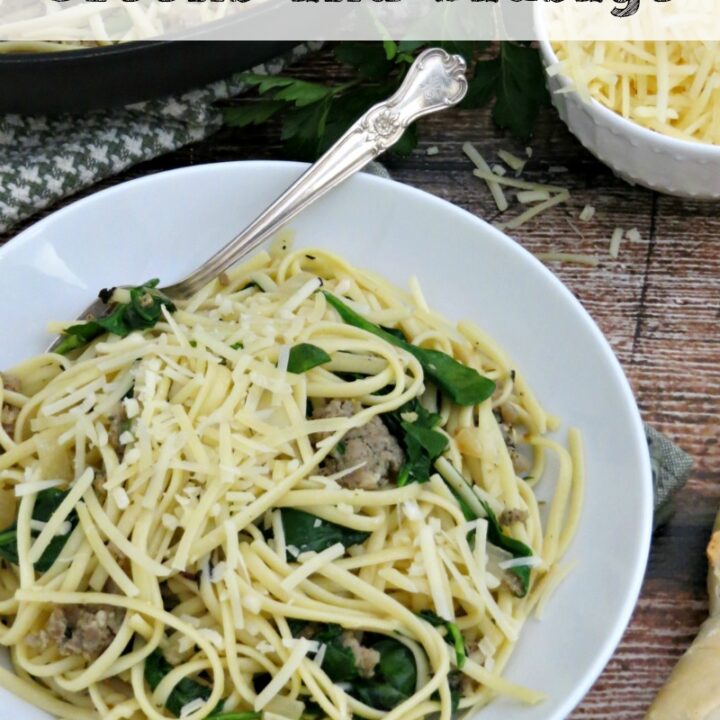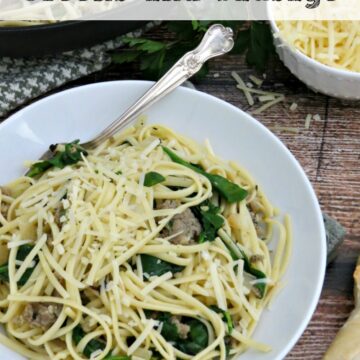 Pasta with Sausage and Baby Greens
For an easy weeknight dinner, look no further than this pasta with sausage and baby greens. So easy to customize to your family tastes!
Print
Pin
Ingredients
12

ounces

linguine or pasta of your choice

12-

ounces

pork sausage

2

tablespoon

butter

1

tablespoon

olive oil

5

ounces

baby greens

mine was chard, kale, and spinach

1/2

cup

freshly grated Parmesan on cheese

2

cloves

of garlic

minced

1

small onion

diced (appx. 1/2 cup)

1/2

teaspoon

ground fennel

1/2

teaspoon

dried thyme

1

teaspoon

dried basil

1

teaspoon

dried oregano

1/4

teaspoon

pepper

1/4

teaspoon

salt
Instructions
Add the sausage, all of the seasonings, and half of the garlic to a bowl and stir to combine. Let this rest for 20-30 minutes to let the flavors blend. You could even do this earlier in the day.

Cook the pasta according to the directions on the package and reserve 1/2 cup of the cooking water before draining it. Drain the pasta and set aside.

Heat the olive oil in a large pan over medium-high heat.

Add the sausage and cook until it's no longer pink, about 4-5 minutes. Break the sausage up with your spoon as it cooks.

Turn the heat down to medium, add the garlic and onion, and cook for another 3 to 4 minutes or until the onion is softened. Watch this carefully so the garlic doesn't burn.

While the onions and garlic are cooking, roughly chop the greens and remove any large stems.

Add the butter, reserved pasta water, and all of the greens to the pan and toss to combine. Cook this for 1 - 2 minutes or until the greens are just wilted.

Turn the heat down to low, add the pasta and toss to combine.

Remove the pan from the heat and add the Parmesan a little at a time, tossing in between each addition.

Taste and adjust the salt and pepper to your liking before serving.

Serve with extra Parmesan cheese, if desired!
Pasta with Sausage and Baby Greens