This vodka sauce recipe is sure to be a hit with your family! I usually pair it with chicken and penne, but it is equally delicious if you use shrimp!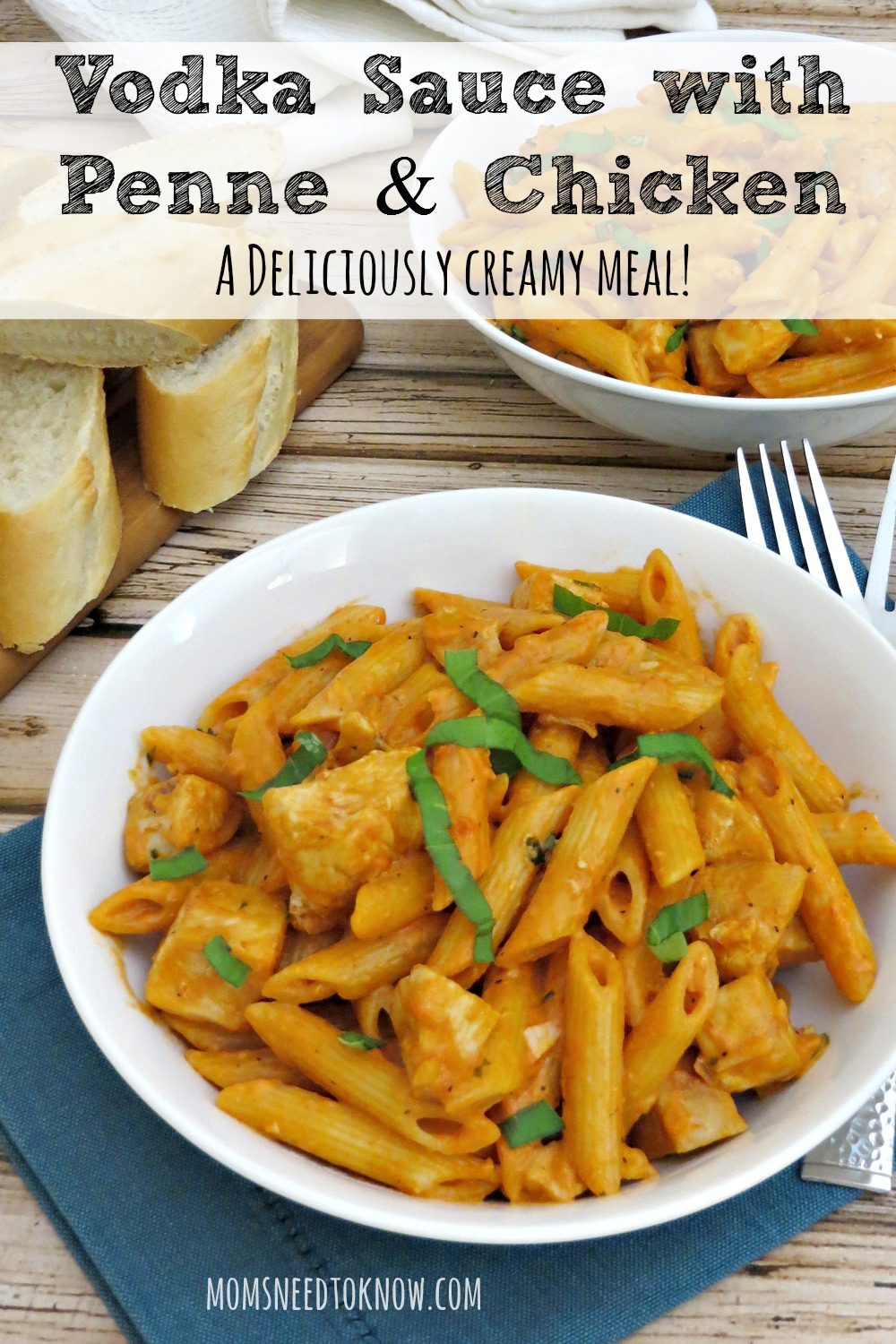 Oh - if your family likes creamy pasta sauces (and who doesn't?), they are going to love this vodka sauce recipe!  Yes - that is right - I am telling you to give something called "vodka sauce" to your children!
The reason I am telling you to give your children something with vodka in it?

Because the vodka is used to deglaze your pan at one point and most (if not all) of the alcohol is cooked out of the vodka, leaving just the flavor.  That being said, if you don't keep vodka in the home, you only need 2 ounces, so you could just buy 2 of those little "airplane bottles" and have enough...I think you are going to love this vodka sauce recipe enough that you might start keeping vodka in the house just for this!
But enough about the vodka - if you don't want to use it, use an equal amount of water or wine to deglaze.  The flavor will be slightly different, but it will be just as delicious!
I've been making this vodka sauce recipe for years - it is a tweak of a recipe that I saw Giada Di Laurentis make on her show (back when I had time to watch cooking shows).  I have made it so many times, changing it a little each time, but this last time, it turned out better than ever and there were NO leftovers.  I finally decided it was time to sit down and write it out!
As always, I actually use about twice the garlic than I list in this recipe - but my family is a family of garlic-lovers.  I suggest starting with the amount of garlic that I list - and gradually increasing (or decreasing) the amount to suit the tastes of your family.
Oh - and please, please, PLEASE - for the love of all that is Good and Holy - do NOT use dried basil in this recipe. Fresh basil gives this vodka sauce recipe so much flavor! And before you say "do you know how expensive fresh basil is in the supermarket?" - let me tell you that you could be saving a ton of money by growing your own container herb garden - even in your kitchen (or wherever in your house gets the most sun), even in the winter!
Scroll down for the recipe!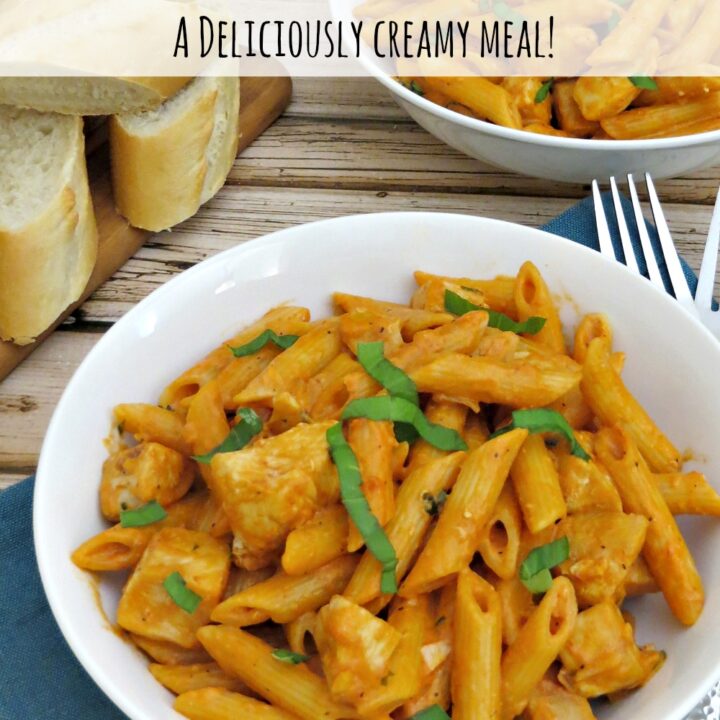 Penne with Chicken and Vodka Sauce Recipe
This vodka sauce recipe is sure to be a hit with your family! I usually pair it with chicken and penne, but it is equally delicious if you use shrimp or scallops!
Print
Pin
Equipment
Ingredients
1

Tbsp

butter

2

medium shallots

minced (about 1/2 cup)

3

medium garlic cloves

minced

1

lb.

boneless skinless chicken breast

cut in to 3/4″ cubes

3

Tbsp

flat-leaf parsley

fresh, minced

1/2

tsp

sea salt

or other coarse salt

1/4

tsp

white pepper

freshly ground

3

Tbsp

tomato paste

2

oz

vodka

12

oz

uncooked penne

1/2

cup

heavy whipping cream

15-20

leaves

basil

fresh, cut into strips
Instructions
Heat a large skillet over a medium heat. Add butter, shallots, and chicken. Sauté until shallots are softened and chicken is no longer pink on the outside.

Add the garlic and continue cooking until shallots start to caramelize, about 2 to 4 minutes.

Add parsley, sea salt, tomato paste and pepper, and mix to form a paste. Lower the heat and cook for about 5 minutes, stirring occasionally

Add the vodka. Scrape bottom of pan with a wooden spoon and cook for about 5 minutes more.

Meanwhile, bring a medium pot of salted water to a boil. Cook pasta according to package directions.

When the pasta is cooked, transfer about 1 cup of the cooking water to a heat-proof measuring cup. Set aside. Drain the rest of the pasta.

Add the cream to the tomato sauce; reduce heat to low and simmer for about 3 minutes.

Add pasta to the sauce and mix to coat.

If the pasta sauce appears too thick, add some of the reserved pasta cooking water to "loosen it up" (I usually have to add about 1/2 cup)

Top with basil and season to taste with salt and pepper.
Vodka Sauce Recipe