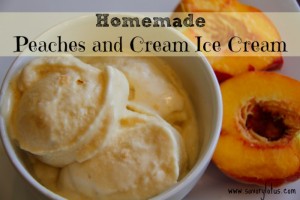 Need a cool ice cream treat to make this week? This Peaches and Cream Ice Cream looks really good! To make it you need:
1 and 1/2 cups cream
1 cup whole milk, preferably raw
4 egg yolks
1/2 cup honey
2 tsp vanilla extract
pinch of celtic sea salt
2 and 1/2 ripe peaches, cut into small 1/2 inch pieces (divided into 1 cup and 1 and 1/2 cups)
Head over to Savory Lotus for the recipe!