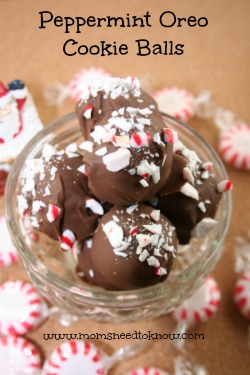 Oh - these are just amazing! If you tried my Oreo Truffles Recipe, you know how decadent they are. This recipe for Peppermint Oreo Cookie Balls just steps it up another notch!
The seasonal Peppermint Oreos are the key to making these cake balls perfect. The cookie is the traditional chocolate cookie that we all know & love, but the filling is red and peppermint-flavored! They are awesome all on their own, but when they are ground up and made in to cake balls, covered in chocolate and coated with crushed candy canes (or Starlight mints)? Oh - BABY!
We have kind of a "rule" in my house. Most sweet recipes that I make because I intend to post them on this site are made on a Saturday.  The reason?  Because I just take everything to church on Sunday to add to the Hospitality buffet.  My kids are usually pretty good with that rule.  But these?  I was not ALLOWED to take them to church!  They are that good!
Hennyway - to make them, you will need
1 pkg (8 oz) cream cheese, softened
1 pkg (15.25 oz) OREO Cookies with Peppermint Cream, finely crushed (run them through a food processor for best results)
1 pkg candy melts (find them at your local craft store)
1/2 bag starlight mints or a few candy canes, finely crushed
Directions:
Mix cream cheese and crushed Oreos until very well blended.
Use a cookie scooper to scoop out balls and round them with your hands
Place in a single layer on a parchment paper-lined cookie sheet
Place cookie sheet in the freezer for at least 30 minutes (this will allow them to firm up and make the coating process much easier)
Melt the chocolate in the microwave, stirring every 30 seconds until completely melted.
Working quickly, coat cookie balls with chocolate. Use 2 forks to help ensure that they get coated well.
Place coated balls back on the parchment paper and sprinkle with crushed starlight mints/candy canes.
Return oreo cookie balls to the refrigerator for 10 minutes to allow the chocolate to completely firm up.
Just FYI - if you can't find Peppermint Oreos (they release certain varieties to certain stores) look for "Candy Cane Oreos" (I buy these at Target) or you can also replicate this recipe by using regular Oreos and adding 1 tsp peppermint extract to the cookie/cream cheese mixture!
I would love to know if you tried this recipe. My family just went nuts for it and I hope that yours will too!