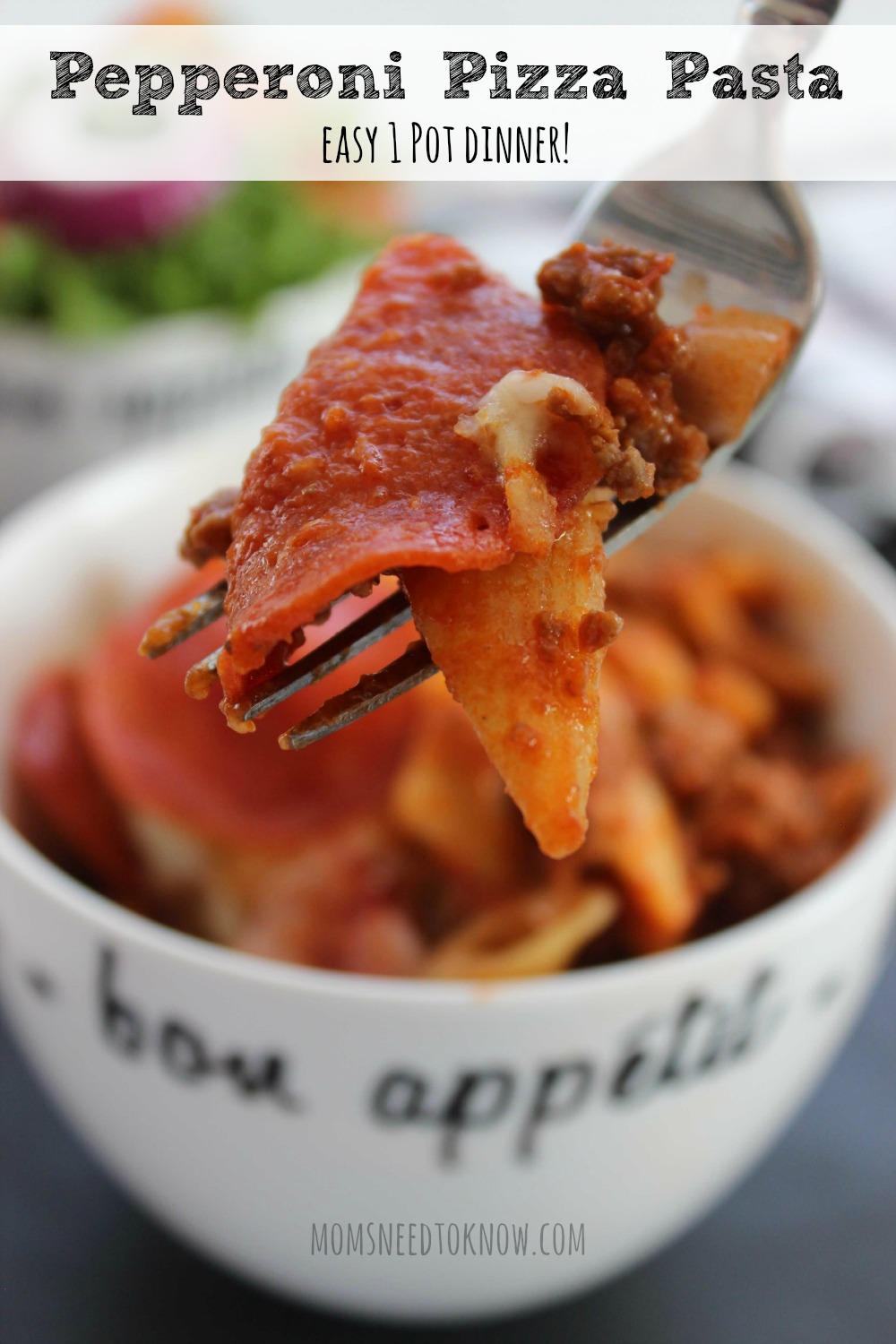 As much as I like to cook my family the healthiest meal possible, sometimes I just have to give them what they want and this Pepperoni Pizza Pasta recipe is one of our "compromise dinners". My husband and boys really DO like Hamburger Helper (yes - the boxed ones where the sauce is a powder) and I have been trying not to buy that (even though you can usually find coupons to make it cheap!), so we have come up with this version (I'm still working on coming up with a viable version of the cheeseburger macaroni one)
I usually will serve this with a salad so that they can at least get SOME vegetables in them (my wedge salad with homemade blue cheese dressing is their favorite - we just skip the bacon crumbles). I prefer this with less pepperoni (but I am not a big fan of pepperoni anyway), but this is how the rest of my family likes it!
Like my easy beef enchiladas recipe, this pepperoni pizza pasta is also very freezer-friendly.  Simply make a double or triple batch, serve one for dinner tonight and freeze the remaining 2 for another night (just skip the broiling part of the recipe for those 2 until the night you actually cook them)!
To make it, you will need:
1 lb lean ground beef
1 small yellow onion, diced
45 slices pepperoni
24 oz pasta sauce (homemade or store-bought)
2 cups water
1 1/2 cups shredded mozzarella
Making it is easy!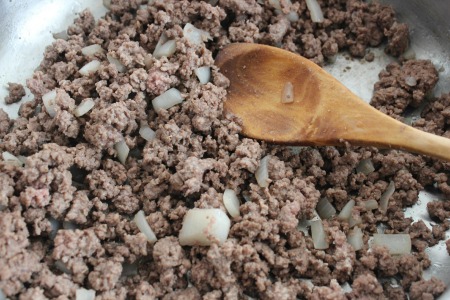 In a large oven-proof skillet or pan, brown the ground beef with the diced onion. Drain the extra fat and return the mixture to the pan.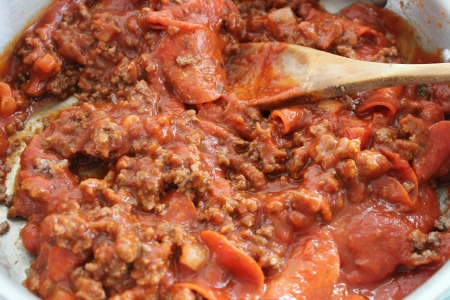 Add the pasta sauce and about 2/3 of the pepperoni and stir to combine.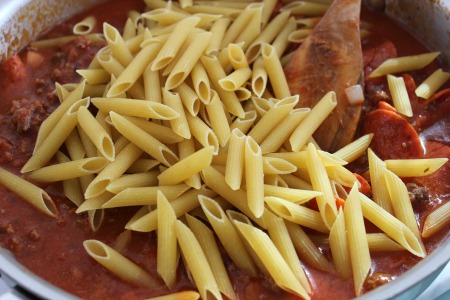 Add the pasta and water and bring to a boil, stirring occasionally. Reduce the heat, cover and simmer for about 10 - 15 minutes or until all of the water is absorbed, stirring occasionally.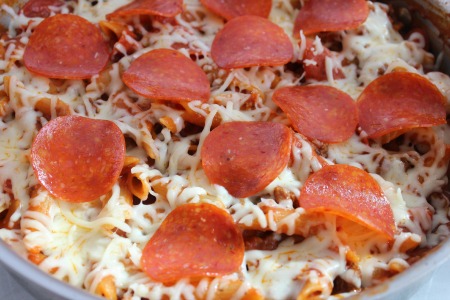 Remove the lid and sprinkle the top with the cheese and remaining pepperoni. Broil in our oven for a few minutes until the cheese is melted and bubbly.
Serve and enjoy!
Scroll down for the complete directions.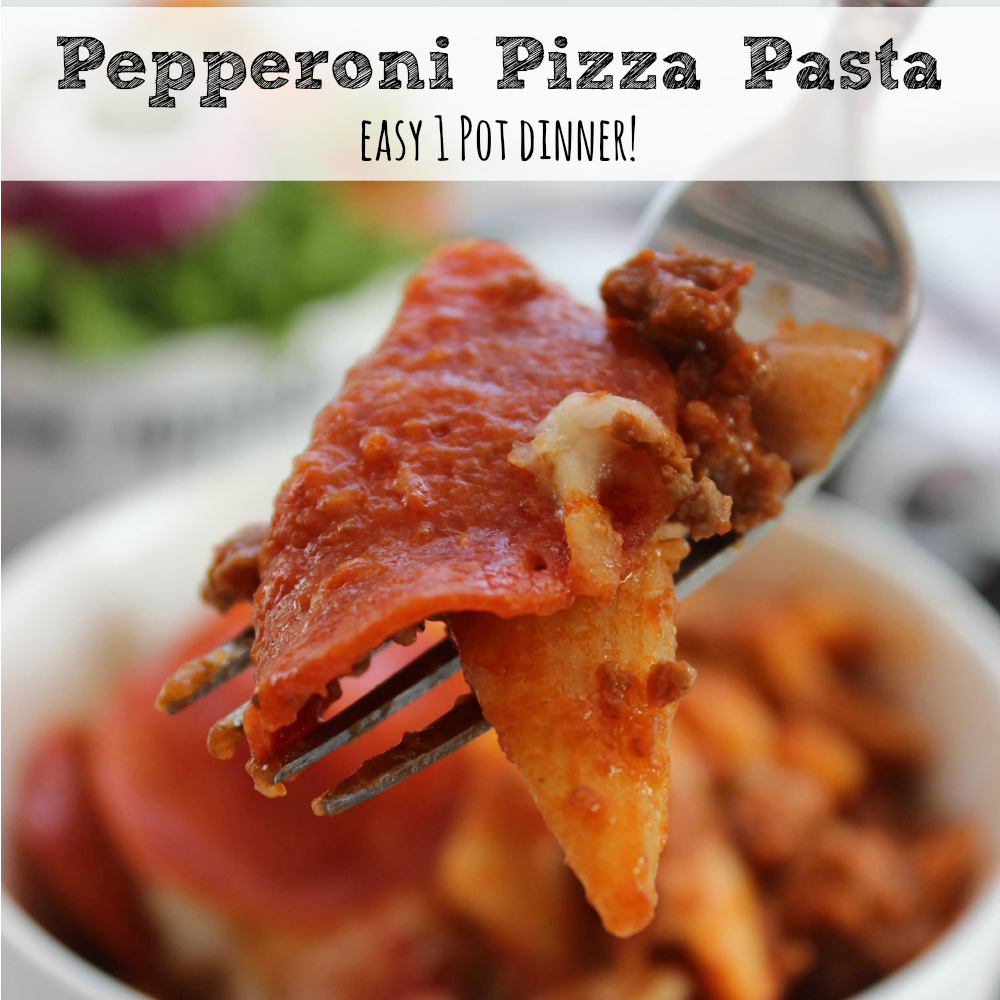 Pepperoni Pizza Pasta Recipe | Easy 1 Pot Dinner!
By Mindi
This Pepperoni Pizza Pasta is such an easy 1-pot dinner recipe and can be made even on those busy nights. It's also freezer-friendly!
Yield - 4 servings
Preparation Time - 5 minutes
Cooking Time - 20 minutes
Ingredients
1 lb lean ground beef

1 small yellow onion, diced

45 slices pepperoni (or less, to taste)

24 oz pasta sauce (homemade or store-bought)

2 cups water

1 1/2 cups shredded mozzarella
Directions
In a large oven-proof skillet, brown the ground beef and union. Drain the excess fat and return mixture to the pan
Add the pasta sauce and 2/3 of the pepperoni (30 slices). Stir to combine
Add the pasta and water. Stir and bring to a boil
Reduce the heat, cover and let simmer, stirring occasionally for about 10 - 15 minutes or until most of the liquid is absorbed and pasta is tender
Turn on your oven to the Broil setting
Remove the lid from the pasta and sprinkle the cheese and remaining pepperoni on top.
Place in the oven and broil for a few minutes until the cheese is melted and lightly browned