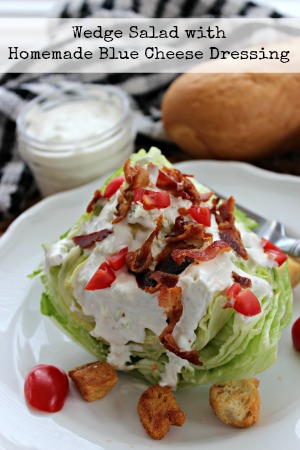 There are a few things that, once you make them from scratch, you can't go back to buying them pre-made. Soup is one of them and blue cheese dressing is another (actually - most salad dressings!). Whenever we go out to dinner, if a wedge salad is on the menu, that is the one I am going to order. It's one of those salads that is just so simple as to be perfect. It is just the perfect blend of creaminess, saltiness and crispness.
Making it is so simple and this homemade blue cheese dressing will keep in the refrigerator for a few days. If this is one of your favorite dressings, whip up double or triple a batch (this recipe makes enough for 4 salads) every week and never buy it again!
To make it, you will need: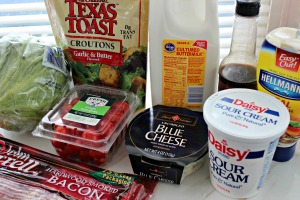 For the salad:
1 head Iceberg Lettuce
1 pint Cherry Tomatoes
1/4 lb Crispy Bacon, crumbled
Croutons
Crumbled Blue Cheese
For the Dressing:
1/2 cup Mayonnaise
1/4 cup Buttermilk
1/4 Sour Cream
dash Worcestershire Sauce
1/4 cup crumbled Blue Cheese
Salt & Pepper to taste
This homemade blue cheese dressing recipe will make enough to cover 1 head of iceberg lettuce (4 servings) but, as I said, can easily keep for a few days so make a double or triple batch if you like blue cheese dressing!
Scroll down for complete directions!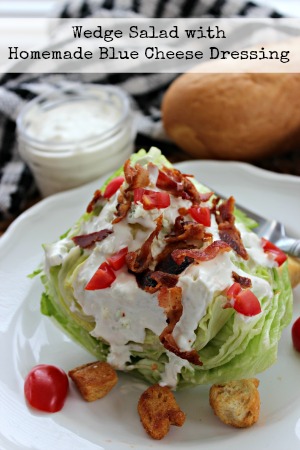 Ingredients
For the salad:
1

head Iceberg Lettuce

1

pint

Cherry Tomatoes

1/4

lb

Crispy Bacon

crumbled

Croutons

Crumbled Blue Cheese
For the Dressing:
1/2

cup

Mayonnaise

1/4

cup

Buttermilk

1/4

Sour Cream

dash Worcestershire Sauce

1/4

cup

crumbled Blue Cheese

Salt & Pepper to taste
Instructions
Combine mayonnaise, buttermilk, sour cream and worcestershire in a bowl, mixing well.

Fold in blue cheese.

Add Salt and Pepper to taste.

Wash and core lettuce; cut into quarters.

Pour dressing over each wedge.

Sprinkle bacon and crumbled blue cheese over wedge.

Dice some tomatoes to top each wedge and slice several to garnish plates.