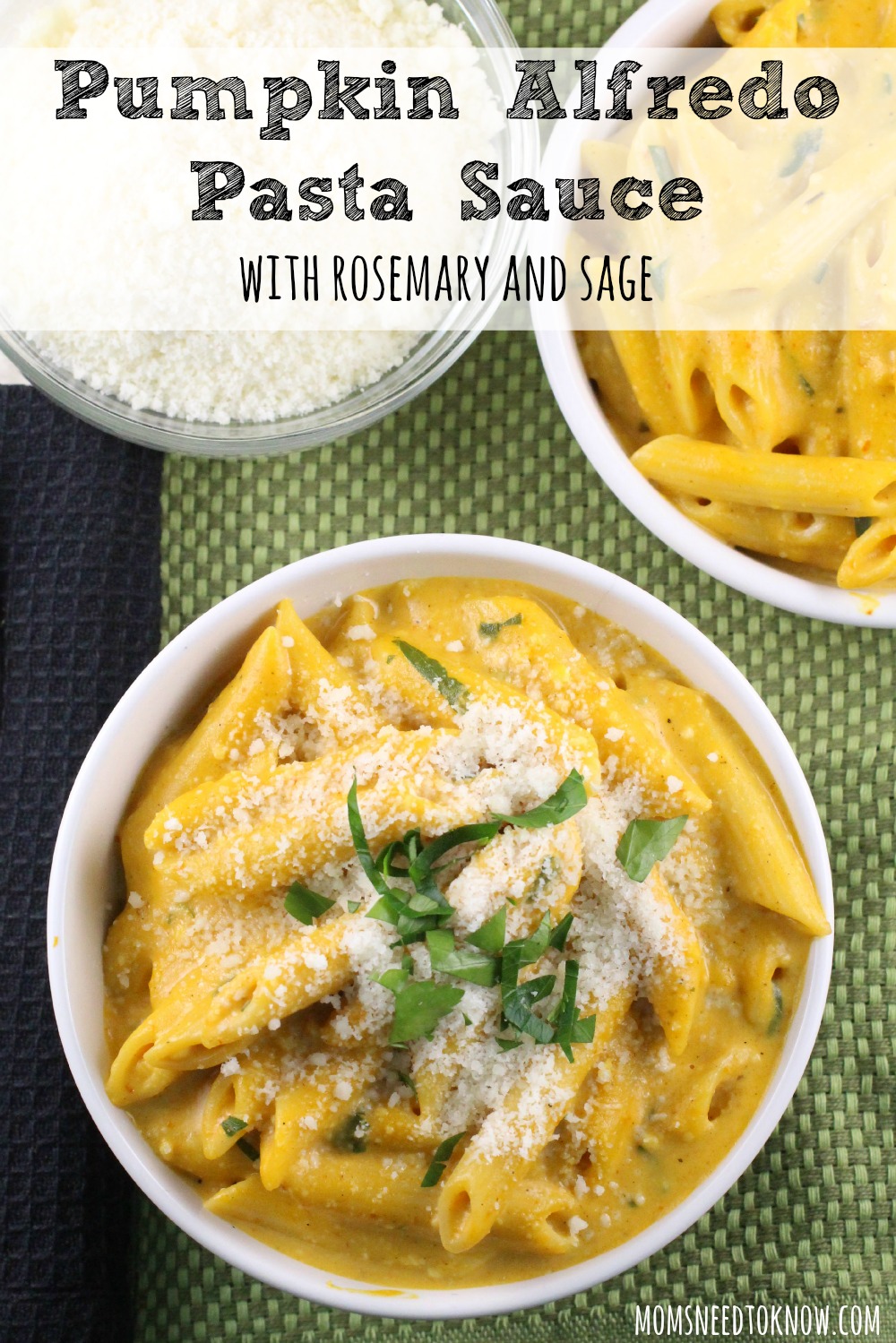 I love all things pumpkin as well as the flavors of Fall. I have a huge arsenal of pumpkin recipes, but aside from my pumpkin Parmesan risotto, I don't have many savory pumpkin recipes and I decided that it was time to change that!
You know that song "Scarborough Fair" by Simon & Garfunkel where they sing about parsley, sage, rosemary and thyme? Well - there were plenty of meanings to that song, but one of them is that the 4 herbs just WORK together and can create something amazing - and that is what I use in this pumpkin alfredo sauce!

A few tips:
Combining the pumpkin puree with the cream is a little tricky because they really don't want to blend and make it easy for you! Because of this, I made the sauce in my 12" All-Clad non-stick skillet and used a rubber scraper to "smush" the pumpkin on the bottom of the pan and quickly stir it in to the cream. It worked well!
As always, I "toned down" the actual amount of garlic that I used, because my family loves garlic. If you love garlic as well, you might want to increase the amount!
You will want to play with the herbs, based on your personal preference. I originally thought 1 tsp of Thyme would be enough (and it was certainly tasty with just that amount), but adding another 1 tsp of Thyme gave this pumpkin alfredo sauce a much earthier flavor. Start with what I have listed and once the sauce is hot, taste it and add more if you want!
Hope you enjoy!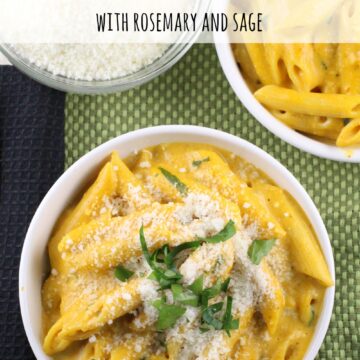 Pumpkin Alfredo Sauce with Rosemary and Sage
This pumpkin alfredo sauce recipe is a nice change from all the sweet pumpkin recipes that we usually see. A creamy and delicious way to enjoy pumpkin for dinner!
Print
Pin
Ingredients
12

oz

uncooked penne pasta

or "stabby pasta" - rotini, rigatoni, etc - of your choice

1 15

oz

can. pumpkin puree

1

cup

heavy cream

2

tbsp

butter

1

Tbsp

minced garlic

about 4 cloves, pressed through a garlic press

2/3

cup

fresh grated Parmesan + additional for garnish

1/3

cup

minced fresh parsley

1

tsp

ground thyme

1

tsp

dried rosemary

1

tsp

sage

pinch

of white pepper

black pepper will also work

salt

to taste
Instructions
Prepare noodles according to package directions. Reserve at least 1 cup of the cooking water in a heatproof measuring cup. Drain and set aside.

In a pan large enough to hold the sauce AND the pasta, heat the butter

Add the garlic and saute until fragrant (about 4 minutes)

Add the thyme, rosemary and sage and saute for another minute.

Add the pumpkin puree, cream and salt and pepper.

Heat, stirring often until the pumpkin has blended in to the cream.

Continue to heat over medium heat until the sauce just begins to simmer (do not let it boil!)

(at this point, I tasted it and decided to add more ground thyme - but that is up to you!)

Add the parsley and Parmesan cheese and stir constantly until well blended.

Add the cooked pasta and stir to combine.

If the sauce is too thick, add some of the reserved pasta cooking water to "loosen it up" a bit.

Serve with additional Parmesan cheese for garnish