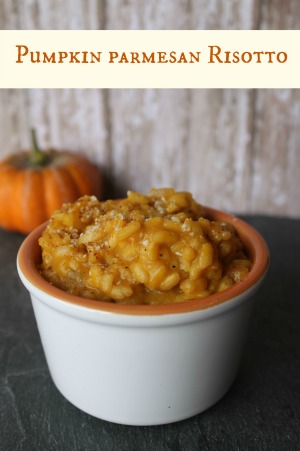 While I pretty much always have a can of pureed pumpkin on hand in the pantry, I love when the first signs of fall hit and I can let my pumpkin love loose on any and every dish. I will find a way to put it in everything from my breakfast oatmeal to my main dishes at dinner. Besides being delicious pumpkin is a great way to add fiber, beta-carotene, and potassium to your diet. It is really the only member of the squash family that my kids will eat, so I am always looking for new recipes that include pumpkin and this risotto recipe is now one of our favorites!
If you are like me and a bit burnt out on rice, pasta, or potatoes as a side dish - Risotto is a delicious alternative, it is a cross between a rice and a pasta, it can cooked with just about any flavor you can think of making it great side for many main dishes. If you are a fan of the show "Hell's Kitchen", the contestants always seem to mess up the risotto recipe, which always gives me a chuckle of two. Sure - risotto is a bit temperamental and must be watched, it is not a dish that you can walk away from as it needs to be pretty much stirred constantly. But it is really worth it and not nearly as hard to make as cooking shows would have you believe!
But pumpkin, oh pumpkin for fall is my favorite. Scroll down for the complete risotto recipe and directions and be sure to also try these fabulous pumpkin recipes:
Pumpkin Pancakes - coming soon!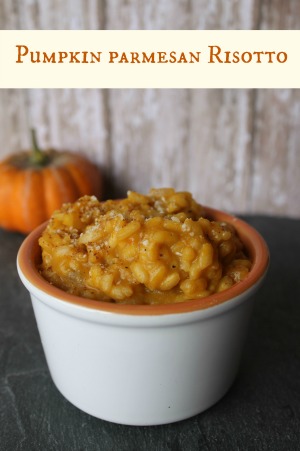 Ingredients
1 ½

cup

Arborio rice

1 ½

cup

Pumpkin puree

3-4

cups

chicken or vegetable broth

½

cup

Parmesan Cheese

½

cup

red wine

1

small onion

diced

2

cloves

garlic

crushed

3

Tbsp.

Olive oil

salt and pepper to taste
Instructions
Place olive oil in a large pan over medium heat with onion, saute until onion starts to become translucent.

Add garlic and cook for 1 minute.

Stir in arborio rice, cooking for an additional minute.

Add wine, and ½ cup of broth, cook, stirring constantly until all liquid is dissolved.

Repeat the process-keep adding broth a half cup at a time until it is all absorbed and risotto is just past al dente, about 20 minutes.

Stir in pumpkin puree and parmesan cheese.

Salt and pepper to taste.

For a pretty presentation top with a sprinkle of parmesan cheese.