Today I made 2 great recipes from Every Day With Rachael Ray and they couldn't have been easier (although it would have been easier on my diet had I skipped the "tasting" part!)
Pretzel Turtles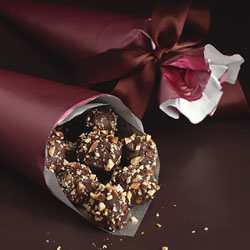 You will need:
14 oz bag soft caramels
14 oz bag pretzel nuggets
12 oz bag semi-sweet chocolate chips
2 cups natural almonds, toasted and finely chopped
Directions:
1. Unwrap the caramels, then, using a rolling pin, roll out each one into a 1/8" thick oval. Wrap a rolled-out caramel around each pretzel nugget, pinching the ends to seal.
2. In a double-boiler over simmering water, melt half of the chocolate, stirring occasionally until smooth. Add the remaining chocolate, remove the top of the double-boiler from the saucepan and stir until smooth.
3. Place the almonds in a shallow bowl. Line a baking sheet with wax paper. Using a fork, dip a caramel-covered pretzel nugget in the chocolate to coat, tapping off any excess chocolate. Transfer the pretzel to the almonds and toss to coat. Place on the prepared baking sheet. Repeat with the remaining pretzel nuggets. Let stand until set, about 3 hours
Recipe tweak: worried about nut allergies? Simply get some more pretzels and omit the almonds. Crush up the extra pretzels and roll the chocolate-covered nuggets in those. (note: replacing the almonds with pretzels is also a way to cut the cost...but they were WONDERFUL with the almonds!)
Pretty In Pink Pretzels
One of the reasons I like this is the simplicity of it. Too many times I see pretzels dipped in chocolate and 15 other types of "sprinkles" or candies. That's just too much! All you really need is the saltiness of the pretzel, the semi-sweetness of the chocolate and the extra hint of sugar!
(oh - and can you tell I was having a craving for chocolate-covered pretzels?)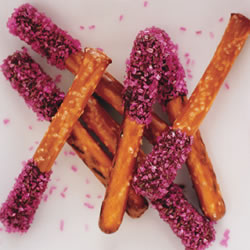 You will need:
8 oz chocolate chips
20 thick pretzel rods
1/3 cup pink decorating sugar (or any color!)
Directions:
1. In a bowl, microwave the chocolate chips at medium power for 10 seconds. Stir until smooth.
2. Dip each pretzel halfway in the chocolate and hang off the side of a cooling rack (put foil down to catch the drips). let the chocolate set slightly, about 30 minutes.
3. Sprinkle the chocolate with decorating sugar and let set completely, about 2 hours (do not refrigerate)
Don't buy the decorating sugar at the supermarket if you can help it. You will find it MUCH cheaper in the cake decorating section of AC Moore or Michaels (and you get to use a 40% coupon!). I prefer what is called "sparkling sugar", which is the thicker, chunkier sugars, but that is just a personal preference when it comes to appearance and won't affect the taste.
Enjoy!