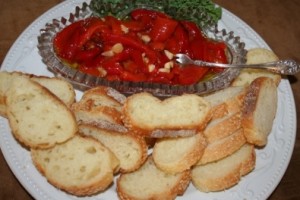 This recipe is oh-so easy, much better than the stuff you buy in the jar, as well as quite a bit cheaper!
You will need:
Red Peppers
Green Olive Oil (I just use Bertolli's Extra-Virgin)
Garlic Cloves: 1/2-1 clove per pepper
Directions:
Wash the peppers and pat dry.
Place the peppers on the grill over medium flame. Turn frequently using your hands or a wooden spoon to "nudge them" (using tongs may cause them to break apart). Continue cooking, turning every few minutes until they are mostly black
Place peppers in a bowl and cover tightly with plastic wrap. Allow to cool (this creates much less mess than the traditional paper bag method)
Remove Saran Wrap. Do not drain out the juice in the bowl....you want to keep that!
Gently pull the stem out of a pepper (and hope that most of the seeds come out). Open the pepper up and with your fingers brush out any remaining seeds as well as the membrane (that part that is white inside it when it is uncooked)
Chop to your liking (small for hors d'oeuvres, larger for sandwiches).
Put the chopped peppers in another bowl and add minced garlic. Add the reserved juices and some olive oil. Refrigerate at least 5 hours (preferably overnight).
If serving as an hors d'oeuvres, serve with baguette slices
Refrigerate any unused portion for up to 2 weeks
A note about the garlic: this is one of those recipes where the flavors get stronger the longer it sits. If you don't use it all up within the first day or two, you might want to remove the garlic cloves so that the garlic flavor doesn't become overpowering
A note about refrigerating this recipe: You may notice a white film (or the entire thing may solidify) after it has been in the refrigerator. This DOES NOT mean that it went bad. It's just what happens when olive oil gets cold. Just let it sit on the counter and allow it to come to room temperature!