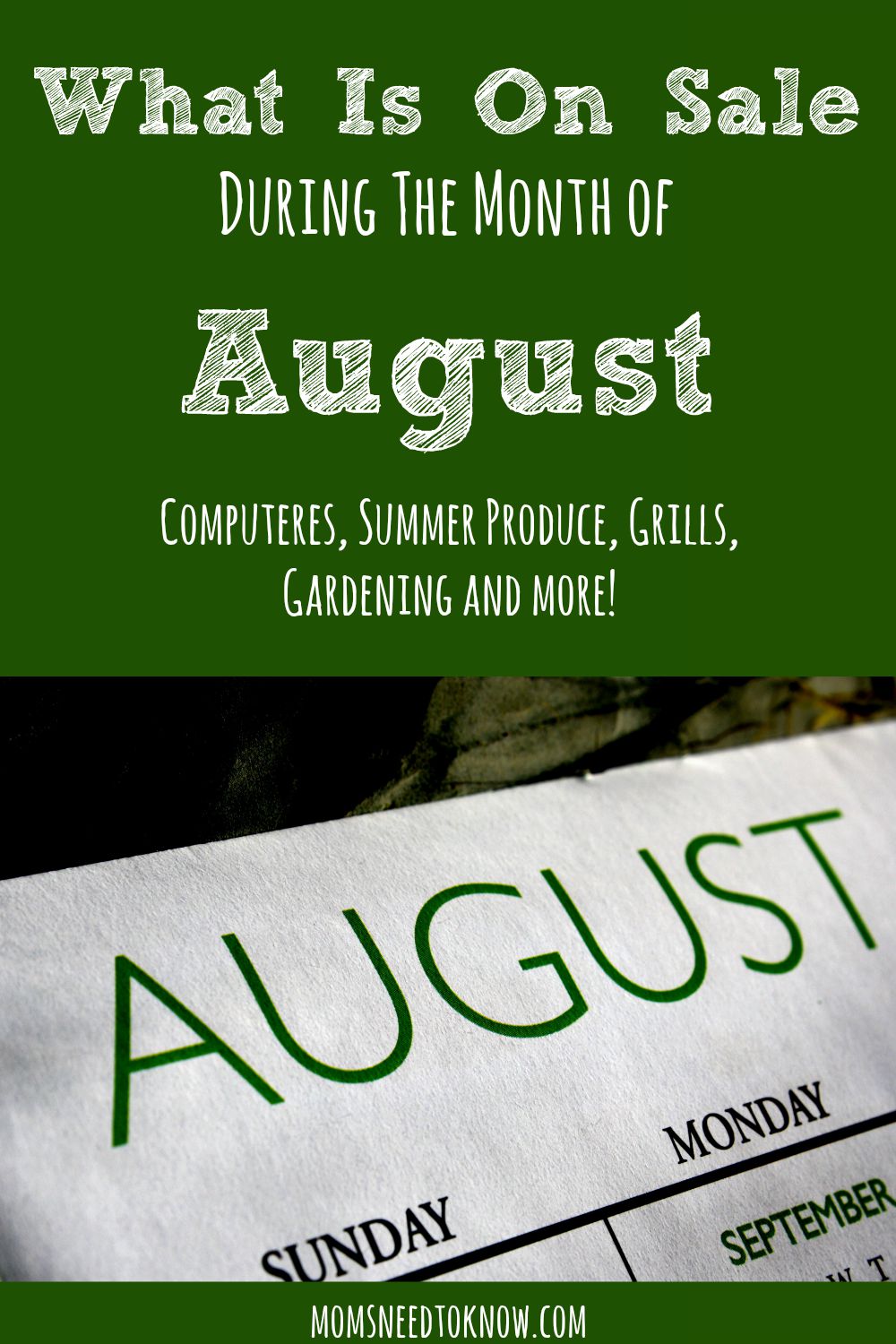 >
August is the end of summer, so you will be able to find end-of-season clearance as well as fall sales throughout the month. While there aren't any notable holidays in August, it is back-to-school season, so you can save big on school supplies, backpacks, dorm room essentials, and a host of other school needs.
Keep an eye out for clearance sales on bathing suits and summer apparel, and don't forget about harvest produce sales.
Here is what is on sale the month of August:
:: Grocery & Drugstore Deals in August
In-season produce: beets, corn, cucumber, eggplant, figs, grapes, grapefruit, green beans, lettuce, melons, nectarines, okra passion fruit, peaches, peppers, plums, raspberries, summer squash, strawberries, tomatillos, tomatoes, zucchini.
Fall canning and food storage deals: food storage items, freezer bags, canning supplies, seasonings.
Labor Day Sales: steak, hamburgers, hot dogs, potato chips, potato salad, macaroni salad, baking potatoes, drink mixes, soda, watermelon, beer, frozen French fries, condiments.
Back to school lunch sales: deli meat, boxed juices, individually packaged snacks, pudding cups, cookies, potato chips, peanut butter, jelly, bread.
:: Other August Sales
Back to school supply sales: pens, pencils, paper, notebooks, glue sticks, crayons, backpacks, folders, lunch boxes, book covers, locker organizers.
Apparel sales: school uniforms, jeans, jackets, socks, t-shirts, underwear, sweaters, long-sleeved shirts.
Electronics: PCs and laptops, cell phones and tablets are on sale for back-to-school. Cell phone providers often introduce new family savings plans just before school goes back. All electronics aimed at or use for educational purposes is on sale at this time.
Summer clearance: Just before Labor Day you'll find all kinds of end of summer blowout sales. Clothing, outdoor items, sports equipment and several things for in and around the home will be on sale.
Gardening supply sales: August is harvest time so any leftover gardening supplies will be on clearance while stores make canning and food storage and preparation items more affordable. Dehydrators, vacuum sealers, freezing containers, jars and lids and pressure cookers are great deals in August.