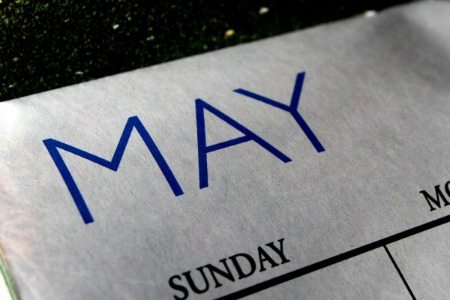 May is the month of merry-making! Mother's Day, May Day, and Memorial Day all provide plenty of reasons to celebrate outside. Expect deals on grilling supplies and foods as well as warmer clothing and spring closeouts as summer is just around the corner.
Here is what is on sale in May
:: Grocery & Drugstore Deals in May
In-season produce: artichoke, arugula, Asian vegetables, asparagus, beets, blueberries, Bok Choy, broccoli, Brussels sprouts, cabbage, cardons, carrots, celeriac, chicory, chives, chicory, collards, cress, cucumbers, endive, Fava beans, Fava greens, fennel, garlic, horseradish, kale, leeks, lettuce, mushrooms, mustard greens, nettles, onions, parsnips, purslane, radishes, scallions, shallots, spinach, sprouts, snap peas, and turnips
Father's Day Sales: steak, cologne, jewelry, watches, shaving supplies, golf deco, golf balls, baseballs, footballs, speakers, DVD's and CD's
National Fitness and Sports Month: fitness aids, dietary supplements, vitamins, minerals, athletic clothes, nutrition bars, and socks
Mother's Day and Memorial Day: Jewelry, flowers, chocolate, perfume, makeup, beauty supplies and craft supplies for Mother's Day. For Memorial Day look for cookout supplies, grills, grilling utensils, charcoal, grill cleaners, spices, seasonings, condiments, and flags
Gardening: canning jars, canning lids, canning rings, hoes, rakes, shovels, seeds, bulbs, plants, and other gardening supplies
:: Other May Sales
Spring clearance: hoodies, umbrellas, capris, sweaters, and long sleeve shirts
Electronics: If there are any of last year's models of electronics from the end of the fiscal year in Japan, they will be marked down to their lowest right now. This includes computers, tablets, phones, DVD players, calculators and other electronics.
Office furniture: Now is the time to buy office furniture. In part this is because many parents are getting ready to send their kids back to school and off to college. This is also because new furniture styles are coming out and the retailers are trying to clear the floor to make room for them.
Refrigerators: All appliances will be discounted right now, but prices on refrigerators are especially low. If you have plans to revive your kitchen with some new appliances, now is the time to take action.