This shrimp and pesto crostini recipe is full of flavor and can be made fairly quickly. It is sure to be a hit at your next party!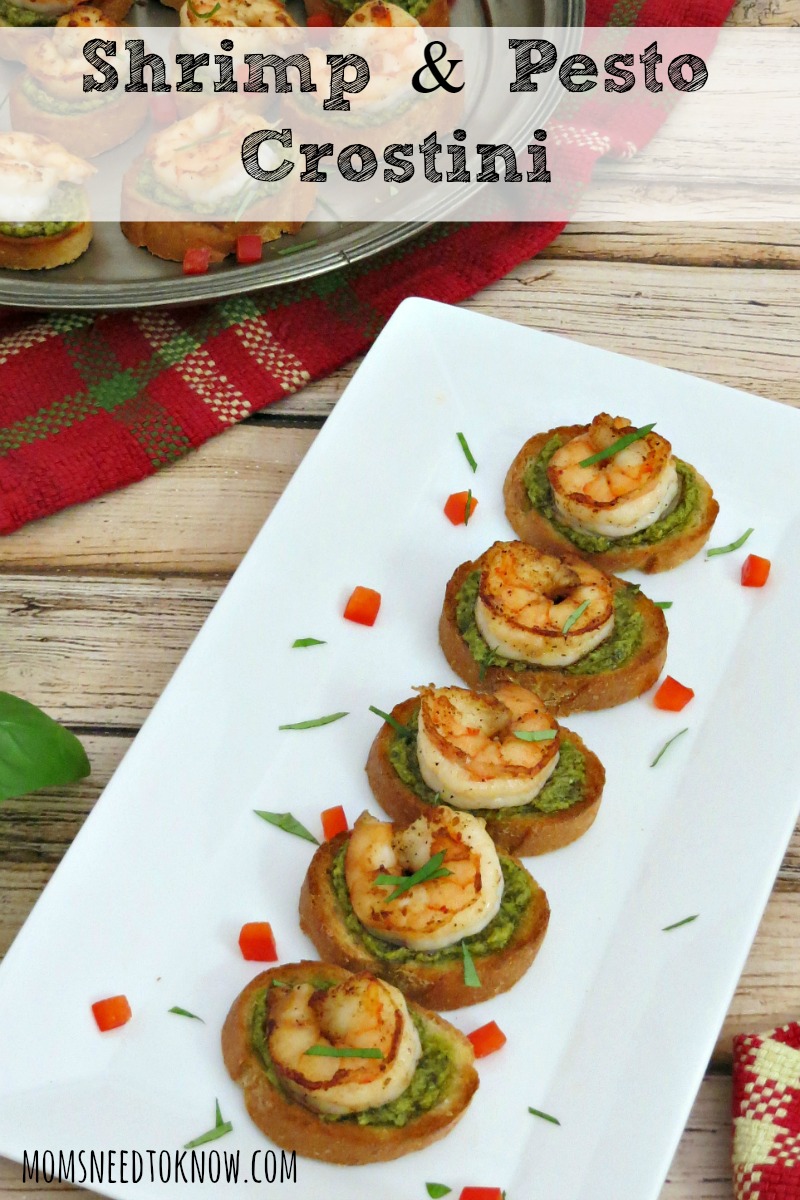 We have people over fairly frequently and I long-ago got tired of bowls of chips and dip (well - except for my dip for doritos recipe).
One of the things that I love about this crostini recipe is that it can easily be made ahead of time and then just assembled when you are ready to serve it.
A key part to this tasting fabulous is to get a good sear on the shrimp.  Be sure not to crowd the skillet with too many shrimp, or they will steam and not brown. It also helps to space them out in the pan.  Don't try to rush by doing too many at once because you will lose out on flavor!
I suggest assembling one full crostini and tasting it. Some store-bought brands of pesto are saltier than others, and you don't want to completely mask the flavor of the shrimp. You can adjust the amount of pesto to suit your tastes.  If you are using a very strong-tasting pesto (like my spinach and kale pesto recipe), I would strongly suggest using less or it will overwhelm your shrimp.
This made 24 crostini for me, but this will vary depending on exactly how many you get in a pound. If you have extra bread, you can save it for another recipe or serve it with pesto for those who don't like shrimp.
Pesto has tons of flavors and adds a little moisture, so I didn't brush the baguette with anything before browning it (and don't think it needs it).
You could also sprinkle these with finely sliced basil and/or freshly grated Parmesan cheese.  If you have guests coming who don't like shrimp, you could always top the pesto with some sliced prosciutto!
Scroll down for the recipe!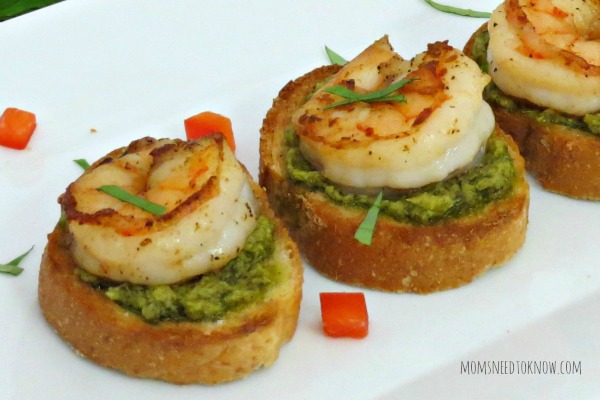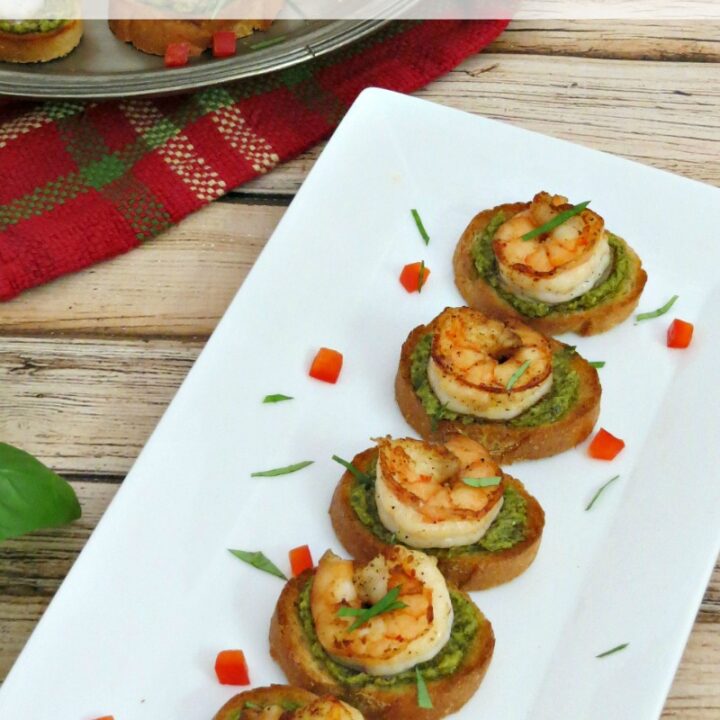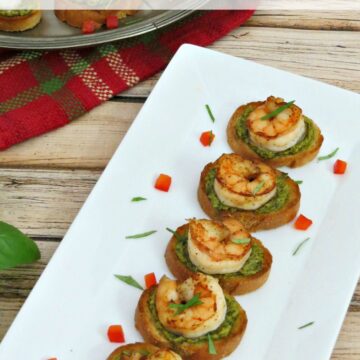 Shrimp and Pesto Crostini Recipe
This shrimp and pesto crostini recipe is full of flavor and can be made fairly quickly. It is sure to be a hit at your next party!
Print
Pin
Ingredients
1 18

" baguette

1-

pound

jumbo shrimp

peeled & deveined

1/2

cup

pesto

24 teaspoons

1

teaspoon

olive oil

1

tablespoon

butter

1/4

teaspoon

salt

1/4

teaspoon

pepper

2

tablespoons

red pepper

finely diced (optional)
Instructions
Preheat the oven to broil.

Slice the baguette into 1/2" rounds and lay on a baking sheet. Place under the broiler for 1-2 minutes or until lightly brown. Rotate the pan once.

Remove the bread from the oven and set aside.

Toss the shrimp with the salt and pepper and set aside.

Heat the olive oil and butter in a large skillet over medium-high heat.

When the oil and butter are hot, add half of the shrimp in a single layer.

Cook the shrimp for two minutes per side. Remove from the heat and set aside. Repeat with the remaining shrimp.

Spread each piece of baguette with one teaspoon of pesto and top with a piece of shrimp.

Arrange on a serving platter and sprinkle with the diced red pepper, if desired.
Shrimp and Pesto Crostini Recipe