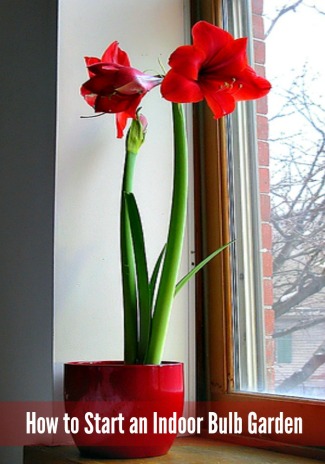 Growing bulbs indoors, or forcing them, can be done everywhere in the world. Not everyone has the opportunity to grow bulbs outside and growing them indoors might just be the answer. Forcing bulbs for the Holidays has become second nature as we see bulb gifts of Amaryllis and Narcissus Paperwhites popping up everywhere.
Here are a few simple steps on how to start an indoor bulb garden that does not require chilling the bulbs first.
Supplies
Decide if you want to grow in a glass container so you can see the roots growing or if you want a beautiful ceramic pot where you would use organic potting soil. You will also need a pound of river rocks that you can pick up from out in nature or at a craft supply store. Choose the bulb varieties you will want to force. Since both Amaryllis and Narcissus come from warm-weather climates they do not need to be chilled like some other bulbs.
Preparation
Rinse the rocks in a water-vinegar solution and then in just straight water. Place them into your container until they cover the bottom. Plant the bulbs into the rocks with the pointy tip facing upwards and the flat side nestled down into the rocks. Amaryllis bulbs are quite large so you want to make sure that the pebbles secure them into place, up to their shoulders. If using potting soil, fill the bottom of the pot with the soil, place the bulbs in it, then fill until the soil comes up to the shoulders of the bulbs. Fill the container with water and put it in a warm sunny location.
Blooming
After 4-5 weeks your indoor bulb garden will be in full bloom. Some varieties will send up a second and third set of flowers. If you are trying to get them to bloom as gifts for the Holidays, plant right around or just before Thanksgiving. Narcissus will fragrant your whole house and will continue to bloom for 3-4 weeks. One Amaryllis bloom can last up to three weeks and both flowers do great cut in a vase as well.