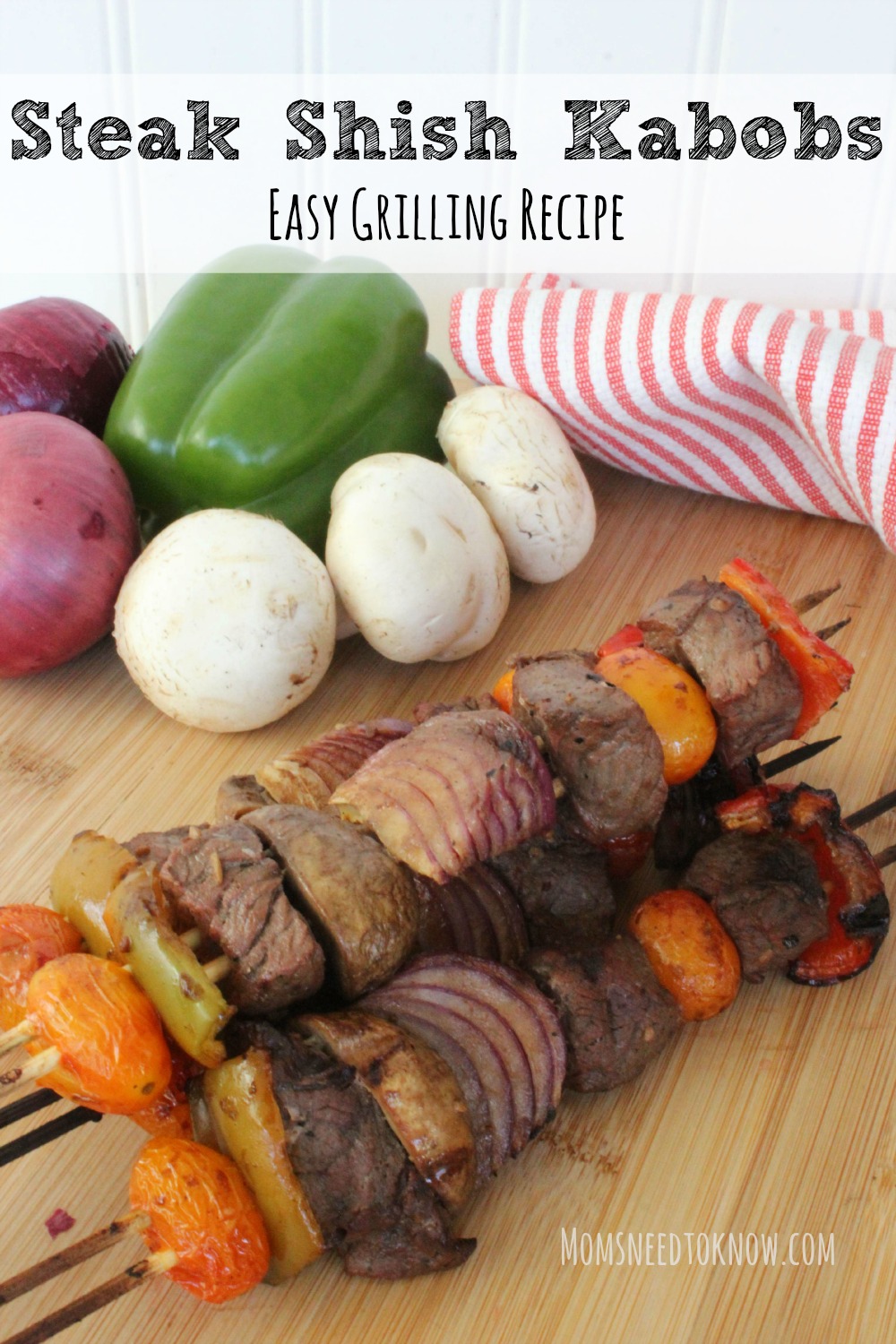 We are deep in to grilling season and one of my favorite things to cook on the grill is this steak shish kabob recipe. One of the reason that I like making kabobs is that they cook quickly and they are perfect for portion control (making them also great for parties).  When we are serving a crowd, we serve these right along with my Grilled Pineapple and Chicken Kabobs Recipe (which I much prefer, as I like chicken way more than beef!).
One mistake that I often see when people are making kabobs is that they don't put the "right" vegetables on the skewers. Steak and potatoes are great, but unless you cook the potatoes until they are almost done before putting them on the skewers, your meat will be done way before the potatoes. That is why I like to stick to quicker-cooking veggies like peppers, onions & mushrooms.
This steak shish kabob recipe does require some planning. You will need at least 4 hours to marinade the beef before putting everything together. Please don't skip this important step or you will end up with flavorless beef that could do double-duty as shoe leather!
You have some vegetables right in the kabobs, so you really don't need that many side dishes, buy you might want to try serving these steak kabobs with a nice broccoli salad with bacon or even just a simple wedge salad with homemade blue cheese dressing!
Anyway, to make these steak shish kabobs, you will need:
Ingredients: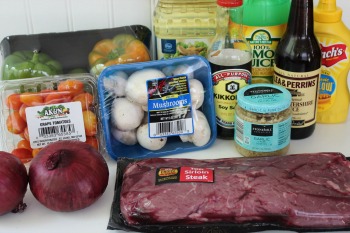 For the marinade:
1/3 cup Vegetable Oil
1/4 cup Low-Sodium Soy Sauce
1/4 cup Lemon Juice
1 tbsp Mustard
2 tbsp Worcestershire Sauce
1 tsp Minced Garlic
1 tsp Pepper
1 tsp Salt
The Rest of the Ingredients:
2 lb Beef Sirloin, cut in to 1" cubes
1 lb Mushrooms
2 Green Bell Peppers
1 Red Bell Pepper
2 Red Onions
16-24 Cherry or Grape Tomatoes
Directions:
In a large zippered freezer bag, combine vegetable oil, soy sauce, lemon juice, mustard, Worcestershire sauce, garlic, pepper and salt. Seal bag and shake to mix.
Add the beef and mushrooms re-seal the bag.

Marinate in the refrigerator at least 4 hours or overnight (place bag on a plate in the refrigerator in case of any accidental leaking).
Remove beef and mushrooms from bag. Do not discard the marinade.
Cut Green peppers, red peppers and onions into 1" chunks.

Put pieces of green bell pepper, beef, red bell pepper, mushroom, tomato and onion onto skewers.
Preheat grill and brush grill lightly with oil.
Place the marinade in a small pot and bring to a boil. Reduce heat and simmer for 10 minutes. Remove from heat. and use for basting.

Cook skewers on the grill, turning every 3-4 minutes and basting with the boiled marinade until done, about 15 minutes.
Serve and enjoy!
Do you have a favorite shish kabob recipe?