Stuffed French Toast Casserole
Easy to make, and yummy to eat- this breakfast dish is a hit with kids and adults alike. Perfect for a first day of school celebration breakfast, brunch, baby shower, or just any old Tuesday morning.
This is a great way to use up stale bread, or overripe fruit, making it a thrifty recipe as well. I often cube and freeze bread when there is a great sale or it's a bit stale to eat for sandwiches. Same with fruit - instead of tossing out fruit when it's just a bit too ripe to eat straight- just peel, chop and toss it in a freezer bag, write on the date with a sharpie.
Try to come up with your own delicious combinations: add nuts, coconut, chocolate chips, use almond extract instead of vanilla. Really amp it up and use cinnamon swirl, or raisin bread.
 Ingredients
8 slices of bread- any kind
4 tbsp. butter
¾ cup brown sugar
8 oz. package cream cheese cut into cubes
6 eggs
1 cup milk
½ cup sweetened condensed milk
2 tsp. vanilla
16 oz. fruit of your choice (strawberries, bananas, peaches, blackberries, blueberries raspberries, apples- that have been cooked down) You can use fresh, frozen, or canned-drain well.
Directions:
Start by chopping bread, and cream cheese into small uniform pieces, set aside.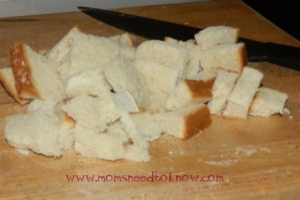 Spray a small casserole dish with non-stick spray (mine was 11"x7").  Spread brown sugar over bottom of pan evenly, chop butter into small pieces and scatter randomly over the sugar base.  Top with fruit, then cubed bread, and finally cream cheese chunks.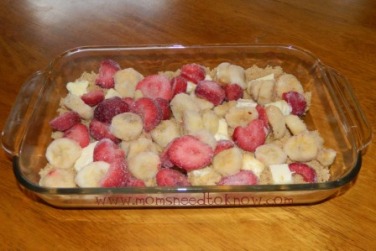 Mix milks, vanilla, and eggs very well in a pourable container.  Pour slowly, and evenly to cover entire mixture.  Press down on top of casserole and hold for several seconds to allow bread to absorb a bit more of the milk. Place covered dish in refrigerator overnight.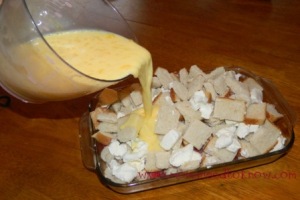 In the morning simply remove casserole from refrigerator and place in an oven preheated to 350° for 45 minutes. You can top with syrup prior to serving but this dish is so sweet and moist it really doesn't need it!
Enjoy!