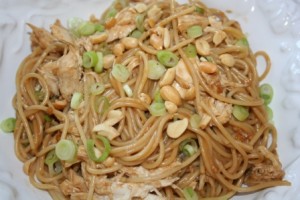 We love Chinese food in our house and I am always looking for some easy Chinese recipes that I can make at home. Not only is this a great recipe to serve your family, but because it tastes great hot OR room temperature, it makes for a great recipe to take to a potluck or church function!
Note: the recipe calls for many different oils and I do realize that buying them can get expensive. Check out this site and this one for recipes to make your own flavored oils!
Sauce Ingredients:
3 Tbsp peanut butter (chunky is best)
6 Tbsp Soy Sauce (reduced sodium is fine)
1 Tbsp Vinegar (I've used White, Cider and Rice Wine with no real difference in taste)
2 Tbsp red hot pepper oil
1 tsp sugar
1/4 cup chopped scallions
2 Tbsp chopped fresh ginger
1 Tbsp chopped garlic (although I just run 2-3 cloves through the Garlic Press)
2 Tbsp Sesame Oil
salt & pepper
The Rest of the Ingredients:
1 lb linguine or spaghetti (or lo mein noodles, if you can find them in the ethnic foods section of your supermarket)
1 lb boneless, skinless chicken breasts
2 Tbsp vegetable oil
2 Tbsp Sesame oil
Chopped scallions and dry roasted peanuts for garnish
Directions:
1. Poach the chicken breasts. Set aside to cool
2. Cook Pasta according to package directions. Drain and add to a big bowl with 2 Tbsp Salad oil in the bottom. Add 2 Tbsp Sesame Oil on top and toss very well so that the noodles don't stick.
3. Shred chicken on top of the linguine that has been tossed with the oil.
4. To make the sauce, first mix the peanut butter with 1-2 Tbsp of the soy sauce to "loosen it up". Add remaining sauce ingredients and mix
5. Pour entire sauce over noodles and chicken and toss to coat.
6. Garnish with chopped scallions and peanuts and enjoy!