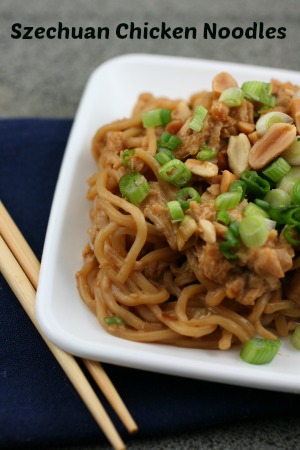 This recipe for Szechuan Chicken Noodles is one of my go-to recipes when we have a party or just want something different for dinner. This is the "mild version" of the recipe for people who don't like things too spicy. I usually add some crushed red peppers to the sauce when I am just making it for my family. Everyone but my daughter just adores spicy foods!
I got this recipe from my mother and she has been making it for years....long before you could easily find rice noodles or lo mein noodles at practically every grocery store! When my mother started making it, she just always used spaghetti (or thin spaghetti) because those were really our only choices. I have made it with rice noodles and it isn't bad, but I really like it when I buy Lo Mein Noodles.
You do want to be careful with the sauce, because it can tend to get sticky quickly. One thing that I like to do is reserve some of the water that I cooked the noodles in to add to the pasta and sauce to help "loosen it up" a bit.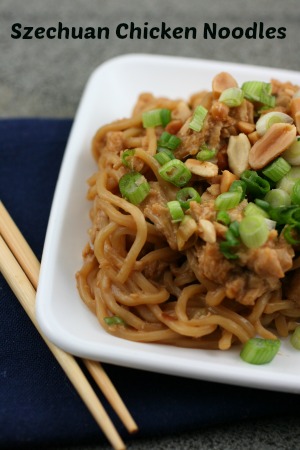 Ingredients
Sauce Ingredients:
3

Tbsp

peanut butter

chunky is best

6

Tbsp

Soy Sauce

reduced sodium is fine

1

Tbsp

Rice Wine Vinegar

2

Tbsp

red hot pepper oil

1

tsp

sugar

1/4

cup

chopped scallions

2

Tbsp

chopped fresh ginger

1

Tbsp

minced garlic

although I just run 2-3 cloves through the Garlic Press

2

Tbsp

Sesame Oil

salt & pepper
The Rest of the Ingredients:
1

lb

linguine

spaghetti or lo mein noodles

1

lb

boneless

skinless chicken breasts

2

Tbsp

vegetable oil

2

Tbsp

Sesame oil

Chopped scallions and dry roasted peanuts for garnish
Instructions
Poach the chicken breasts. Set aside to cool

Cook pasta or noodles according to package directions. Reserve 1/2 cup of the cooking water, drain and rinse pasta.

Place pasta in a big bowl with 2 Tbsp vegetable oil in the bottom. Add 2 Tbsp Sesame Oil on top and toss very well so that the noodles don't stick.

Shred chicken on top of the linguine that has been tossed with the oils.

To make the sauce, first mix the peanut butter with 1-2 Tbsp of the soy sauce to "loosen it up" (I find microwaving them together for about 30 seconds helps this process. Add remaining sauce ingredients and mix

5. Pour entire sauce over noodles and chicken and toss to coat. Add some of the pasta cooking water if needed.

6. Garnish with chopped scallions and peanuts and enjoy!
Notes
I like to add crushed red pepper flakes to the sauce to give this a little bit of a "kick", but be careful not to overdo it!