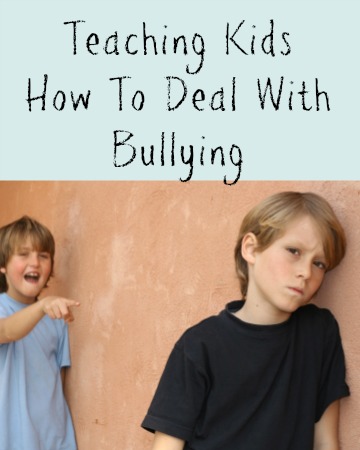 Teaching kids how to deal with bullying involves much more than telling them to go to an adult. Children who never learn to deal with bullies on their own can fail to develop a healthy sense of independence or self-worth. Bullying can actually grow in intensity if the parent or guardian has no idea how to deal with it. Bullying is never okay, but we would be foolish to think it is not a normal part of growing up. The problem is that today it is taken to an extreme. It often extends to the online world in addition to school and that can lead to serious physical or emotional damage. Here are some tips for dealing with this difficult problem head on:
Lead by example - When you are teaching kids how to deal with bullying through your own example, you're going to show them the basics...be nice to other people, blah, blah blah. While those things are important, they really don't help your child when he or she is face to face with a bully. When is the last time you stood up for yourself or stood up for someone who couldn't stand up for themselves? If your child never sees you being assertive, where do you think they might learn to do it themselves? Stand up for yourself and stand up for your child when the situation arises. Show strength because this issue goes far deeper than the playground.
Show them how to avoid precarious situations - If your child has a bully to deal with, they need to learn how to recognize situations that might put them in a tough situation. Bullies can often be avoided simply by the old stand-by advice of hanging with a good crowd. Now may be a good time to offer some instruction concerning the company your child keeps and the situations that may make them more vulnerable to bullying.
Teach them not to avoid confrontation - If the bully issue is happening at school, make your presence known. There are authority figures at the school who should be dealing with this situation. Keep in mind that if your child is getting bullied, other children probably are too. A phone call may not cut it. Go to the school in person. Become the parent who is known by name. In the meantime you need to encourage your child to stand up for himself, but the fact that you are putting forth some effort as well will serve as a reminder that you aren't afraid to stand up for what's right.
Create a safe environment - You and your child might start a club that focuses on something positive and includes members who might be victims of bullying. Teaching your child how to deal with bullying includes giving them options so they aren't stuck in situations where bullying might be encouraged. Never forget that numbers are a good thing. This type of club can help keep your child from feeling alone, as well as end up being alone in a bad moment. Create a safety net with numbers and unity.
Bullying really is something that you have to attack as a community. Involve other parents, your school, your babysitter, your friends and your extended family when this ugly problem rears it's head. Your child's safety might just depend on it.