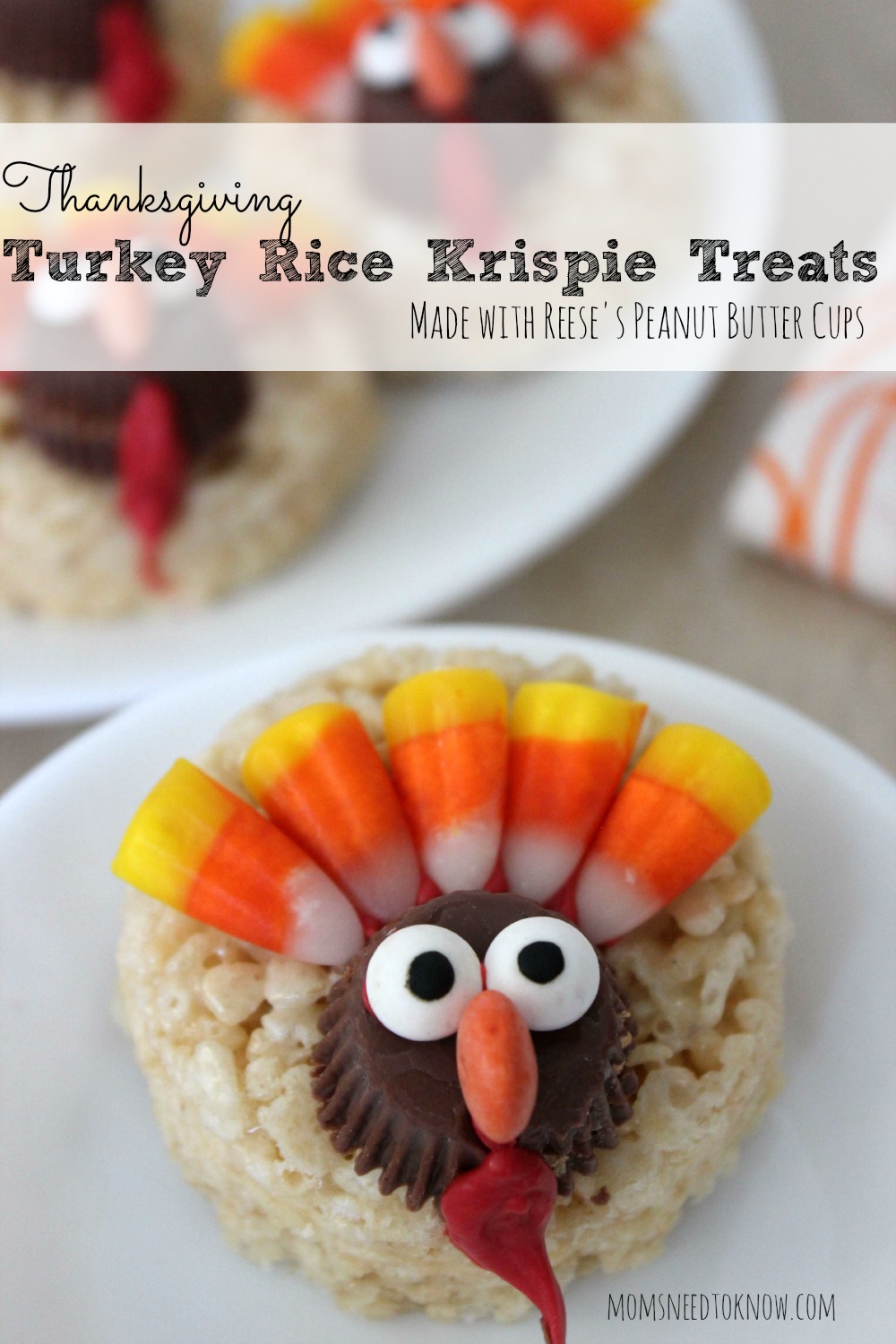 Now that Halloween is behind us, it is time to look forward to Thanksgiving! Thanksgiving really gets the shaft when it comes to fun treats and desserts. Twinkie Frankenstein Mummies are fun to make for Halloween, as as Peppermint Oreo Truffles for Christmas....but there aren't that many icons or flavors of Thanksgiving that "translate well" in to Thanksgiving.
Except the turkey.
Which might be why one of the first Thanksgiving decoration that all kids learn how to make is to make a turkey by tracing their hand (which to be honest, doesn't even look THAT much like a turkey!). But I think we an be a little more creative than that and these Turkey Rice Krispie Treats are fun to make with the kids and will be a nice addition to your Thanksgiving buffet table or even for a party at school (as long as there are no peanut allergies in the classroom)!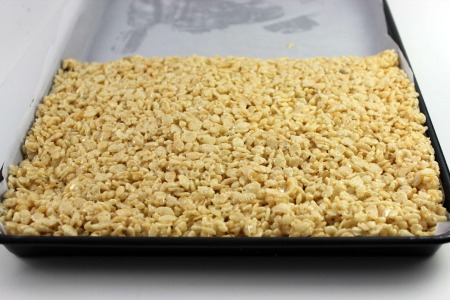 You are going to want to use a large pan (preferably a baking sheet or jelly roll pan) when you are making the Rice Krispie treats part of this dessert because you only want that part to be about 1 inch tall. Since you will be using a 2" cookie cutter to cut the circles, you want the circles a little flatter than when you make the treats in a, for example, 9" x 13" baking pan.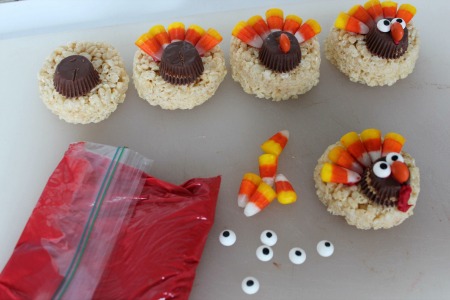 Make sure to put the Reese's Miniatures in the freezer for at least 15 minutes before you start assembling them. This will ensure that they don't get all "melty" in your hands while you are attaching them to the rice treats using the red chocolate as a "glue". The candy eyes can be found at most craft stores (Michaels, AC Moore, etc) and possibly even in the seasonal baking aisle of your local Target!
Scroll down for the complete directions!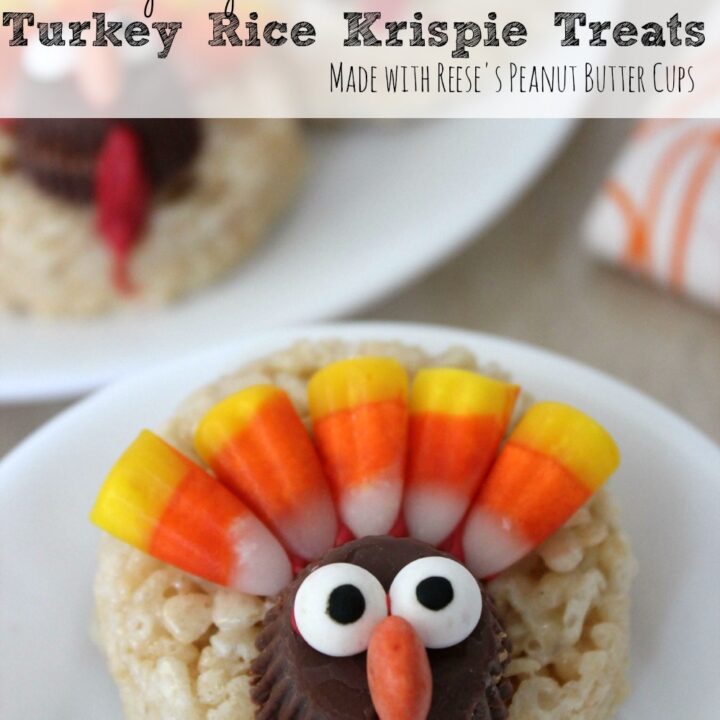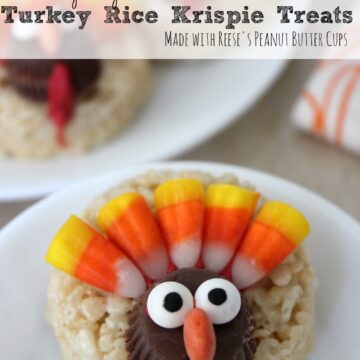 Ingredients
6

cup

Rice Krispies Cereal

4

tbsp

Butter

10.5

oz

bag Marshmallows

9

Reese's Miniatures

9

Orange Reese's Pieces

or Orange M&M's

18

Candy Eyes

45

Candy Corns

1/4

cup

Red Candy Melting Chips
Instructions
Line a deeper (1") baking sheet or jelly roll pan with parchment paper.

Place Reese's Miniatures in freezer for 15 minutes.

In a Large saucepan, melt butter over low heat.

Add the marshmallows and stir until completely melted.

Add cereal and mix well.

Remove from heat and allow to sit about 3 minutes.

Butter your hands or use wax paper to press the mixture firmly into the prepared pan, making them no more than 1" tall. (you may not be able to fill the entire pan with the mixture and still have them be that tall - start at one end of the sheet and work your way down).

Allow to set for at leas 10 minutes.

Using a 2" cookie cutter, biscuit cutter or drinking glass, cut out circles.

Place red candy melting chips in corner of zippered sandwich bag and microwave for 45 seconds.

Gently massage candy to ensure that it is smooth and completely melted. If not, heat another 15 seconds.

Clip a very tiny bit off of the corner of bag to allow you to pipe chocolate on candy.

Using candy as glue, attach miniature to bottom half of circle.

Using candy as glue, attach 5 candy corns around upper half of miniature to be tail feathers.

Using candy as glue, attach Reese's Piece to bottom half of miniature on its edge as beak.

Using candy as glue, attach eyes above beak.

Pipe on a waddle down the bottom of miniature below beak.

Refrigerate for 10 minutes to set all pieces in place