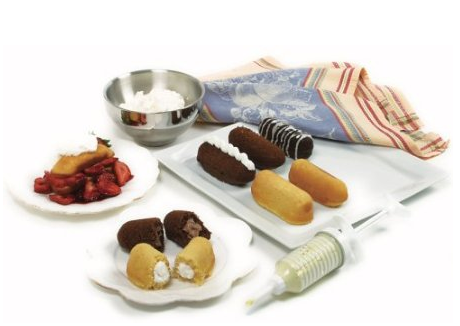 If you haven't heard, Hostess announced today that they are liquidating the company and have ceased all operation.
While experts believe that someone will eventually buy up the Twinkie brand/recipe and bring them back to the markets, in the meanwhile, reports are that stores have been completely wiped CLEAN or Twinkies, HoHos and Ding Dongs today, and single Twinkie boxes are selling for upwards of $100 on Amazon!
It's insane....all for a little snack cake that will never go bad!
If you don't want to spend the $100 for 8 little cakes (and never really bought them anyway because they are about 95% chemicals), here is how you can recreate those little guys at home - and an in fun and infinitely more healthy way!
First, you need to buy a Norpro 3964 Cream Canoe Pan With Bonus 9 Piece Decorating Set. This is priced at $24.25 and ships for FREE with Super Saver Shipping (on orders of $25+). The reviews are fabulous on this item (4.5 out of 5 stars, which is pretty good for such a "specialty bakeware item").

Norpro 3964 Cream Canoe Pan With Bonus 9 Piece Decorating Set - $24.25 and ships FREE with Super Saver Shipping
Next, you need a recipe for Twinkies! I did some searching and this one that has rave reviews:
Twinkie Recipe at Top Secret Recipes. They have even made a video demonstration of how to make Twinkies!

How To Make Twinkies at Home
Print
Ingredients
For The Cake:
Non-stick spray

4

egg whites

One 16-ounce box golden pound cake mix

2/3

cup

water
For The Filling
2

teaspoons

very hot water

1/4

teaspoon

salt

2

cups

marshmallow creme

one 7-ounce jar

1/2

cup

shortening

1/3

cup

powdered sugar

1/2

teaspoon

vanilla
Instructions
Grease the inside of each mold with a light coating of non-stick spray.

Disregard the directions on the box of cake mix. Instead, beat the egg whites until stiff. In a separate bowl combine cake mix with water and beat until thoroughly blended (about 2 minutes). Fold egg whites into the cake batter and slowly combine until completely mixed.

Pour the batter into the molds, filling each one about 3/4 of an inch. Bake in the preheated oven for 30 minutes, or until the cake is golden brown and a toothpick stuck in the center comes out clean.
For the filling
Combine salt with the hot water in a small bowl and stir until salt is dissolved. Let this mixture cool.

Combine the marshmallow creme, shortening, powdered sugar and vanilla in a medium bowl and mix well with an electric mixer on high speed until fluffy.

Add the salt solution to the filling mixture and combine.
Assemble Your Twinkies
When the cakes are done and cooled, use a skewer or chopstick to make three holes in the bottom of each one. Move the stick around inside of each cake to create space for the filling.

Using a cake decorator or pastry bag, inject each cake with filling through all three holes.