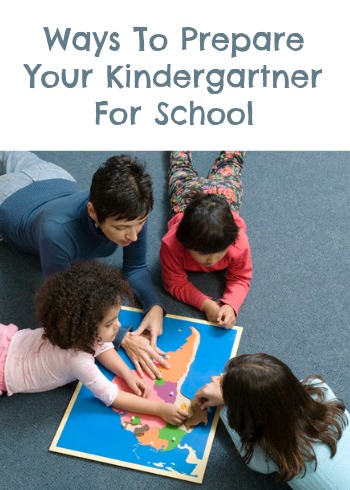 When your kids head off for kindergarten, life as you know it will change drastically with your little one. Kindergarten means that your wee one will officially be in school and learning without you. Preparing your kid for that experience only half the battle...you best be preparing yourself too. On the bright side, kindergarten will teach your kid some independence, social skills and how to blend those crayon colors on your living room walls.
In addition to the skills they are going to learn, they will also face some challenges. Preparing them ahead of time will benefit you both.
Here are six essential tips to make sure your kid gets the most out of kindergarten:
Talk about their fears - Imagine you are a kid all over again and you are about to leave for the adventure of kindergarten...there is a pretty good chance you were scared stiff! Your kid likely is as well. Sit down with them and talk about it. Most kids will gladly share what they are afraid of. Sometimes it helps them open up if you tell them about fears that you had. Giving them a chance to talk things over is a huge deal and well worth your time.
Take a tour around the school - Kindergarten can be scary for a number of reasons but being unfamiliar is a primary one. Going to a massive school that they know nothing about is intimidating for some kids. Peel back the curtain and let them explore the school one day with you by their side. Walking around with you along will boost their confidence and show them there is nothing to fear. By all means enjoy the back to school night the school has, but call ahead and get some alone time in the school with your child as well. It is far more powerful.
Set up a day to observe - The year before you enroll your child in kindergarten, speak with the school about coming in to observe. Sitting with your child and watching what happens can create an excitement about school in your kid. Why have your kid fearing it when you can have them looking forward to it instead? Sit in and watch what the other children do and you will have them chomping at the bit to join in. Explain to them that only kindergarteners get to do that. By the time the following year rolls around, they will be ready to go with little to no fears at all.
Practice manners and basic skills - Another great way to get your kid ready for kindergarten is to teach them some basic skills and manners. Skills are pretty clear when it comes to kindergarten….you need to work on colors, shapes, numbers, letters and creative thinking.  Manners are another matter. Hopefully by this point you have at least a basic platform to work with and if not, you better get started. A rude or mouthy kid can gain a reputation quickly in kindergarten and though it is sad, it can follow them throughout school. Teach your kid how to raise their hand, not interrupt or talk back and being polite at a minimum.
Not picking their boogers is always a good one to reinforce, too.
Encourage some independence - Yes, your kid is your baby. You have spent years now coddling and protecting them from everything the world has to offer. Now is the time that you have to start letting go just a little bit. Kindergarten is tough on a parent because they have to start letting others have a say in what happens to their kid. Work closely with the teacher and get to know them, but allow your kid to spread their wings a bit. Independence is a good thing at this age. Resist the urge to micromanage your kid's kindergarten career. They do not need a stage mom no matter how much you might think they do.
Look in the mirror - Your child should be thrilled about their new adventure and you should reflect the same. If you are depressed and scared, your kid will be as well. Be very careful about what you say and resist the urge to put your fears in their minds. Talk those over with your husband or their teachers when the kids are not around. Many parents load up their kids with things to be afraid of and the poor kid never has a chance. Reflect positivity at all times.
Kindergarten is a wonderful time in a kid's life and it is an important step in parenting growth too. If you work together and keep the positive goal of learning in mind, it will be a memory that you cherish for a lifetime.
What ideas did you use to get your kindergarteners ready for to school?