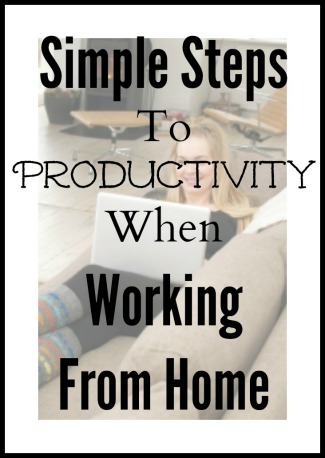 Working from home can be one of the most rewarding experiences of your life. I know that it has completely changed my life!
The ability to set your own pace, work from your bed or in-home office in the comfort of your pajamas, or simply avoid a lengthy commute all make this a great choice for many men and women.
Unfortunately it can also be very difficult to manage with distractions all around and I have learned many of these lessons the hard way!
Here are some Simple Tips To Productivity When Working From Home that will help you complete your daily tasks easily. These easy tips can change how your at home work day falls in place.
Work in designated areas as often as possible: Don't fall into the trap of working on the couch or in bed. Set up an office or at least work at your kitchen table so you have a more traditional "office" environment. Getting too comfortable can make you lax in your work and cause you to get behind or produce less than quality work.
Turn off the noise: While the television may not seem to distract, you will find yourself continually drawn to the pictures and noise in front of you instead of to your work. The same goes for music. Instrumental music or classical music can be a great way to help you focus but music with lyrics if often another distraction that ends up taking your mind away from your work.
Take routine breaks: Set alarms to get up and move around your house a bit every 2-3 hours at minimum. A short 15 minute break to swap out laundry or take a quick jog on the treadmill are great for helping your body shift and your mind refocus.
Take a REAL lunch break: This one was a hard one for me, but don't eat at your desk. Grab lunch and sit down at your table or even on the couch for a quick break while you check the news or do some reading. Step away from work for at least a 30-45 minute lunch break to help your body and mind refocus.
Keep a set schedule & routine: Schedule your days just like you would in a traditional office with certain goals to be completed at set times. Check your emails and do correspondence in the mornings. Work on new projects in the afternoon and end the day by setting goals for the following day.
Ask for accountability: Do you fall victim to social media being at hand? Do you struggle with completing tasks because you think about the housework that needs to be done? Find someone to hold you accountable on a daily basis. A friend, coworker or family member can call you, email you to text and remind you to stay on focus and keep working.
Just say "No!": Friends and family are likely to ask you repeatedly to do things for or with them while you are at home. They won't understand that just because you are at home doesn't mean you aren't truly working. Learn to say no and be firm about it.
Working from home can be a great way to save money on expenses like commuting, childcare and more, but it can also be a difficult thing to manage. These simple steps to productivity when working from home are sure to help you become a better employee, partner and parent.
Don't fall into the common traps of getting too comfortable. Follow these tips and make sure your at home career is a success.