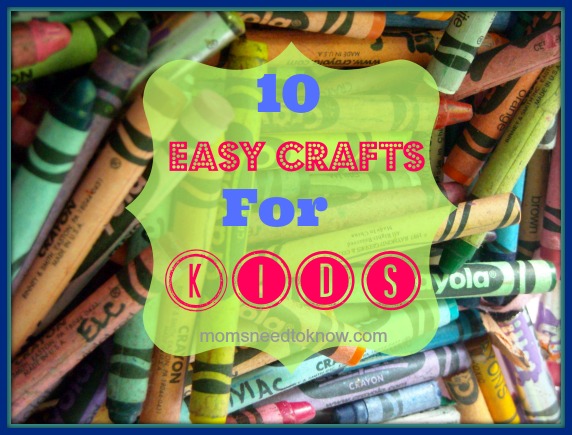 As working parents we live a busy life! I'm sure we can all relate to the fact that we don't always have time to engage in hands on crafts with our children. Of course we want to but time is sometimes a factor. Sometimes we need our kids to entertain themselves while we get some work done.
I don't know about you but I don't always have time to prepare an in-depth craft for my children. Today's post is all about crafts that you can quickly put together for your children and will entertain them while you get some work done! Giving your child a craft is a much better option than sticking them in front of the TV or trying to work while answering a million questions.
10 Easy Crafts for Kids
1. Printing with Bubbles - This is a really unique crafts that kids of all ages are going to enjoy. It is a very affordable craft and something you can quickly set up for your children.
2. Create Your Own Art Camp - This is a really great post on creating an art camp for your kids! This is actually something you could easily set up every day.
3. Paper Plate Fish Craft - Younger kids will really enjoy this craft and it won't take up a lot of your time.
4. Painting with Marbles - Your kids will love making an art masterpiece with marbles. Very affordable and very easy for kids to do by themselves.
5. Rock Painting - Start collecting rocks and then let your kids decorate them. You do not have to be hands on during this activity! Tell your kids to surprise you with some garden art.
6. Mosaic Art  - This craft might require you to be a little more hands on if your kids are really young. I think this craft would be better suited for kids over the age of 8.
7. Pottery Painting Craft - Pottery painting will really grab the attention of all kids. Your child can really let their imagination run wild with this one.
8. Bird Seed Painting - Grab some bird seed at the store, get some construction paper and kid-friendly glue. Let your kids go to town making crafts with bird seed! They will be so excited to let the birds eat it up.
9. Bedazzling Beaded Jewelry - If you have older children this craft will go over well! Girls will love it and I think even boys might join in on the action. This craft will require supervision if young children are involved.
10. Chalk Art - Kids love chalk art and this post has several different ways you can let the kids have fun with chalk art.