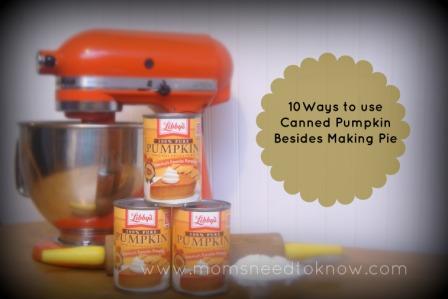 Pumpkin Recipes
Do you, like me, have a pumpkin dependency?  I truly love all things fall; cool weather, crisp smells, pretty sweaters, apple cider,  scarecrows, hayrides, Cinnamon Spice Lattes at the old Five-Bucks, etc… But pumpkin just calls to me on a personal level.  Every year I complain bitterly  wait patiently for it to be Fall-y enough to break out the Pumpkin.
I enjoy it because it's high in fiber and packed with vitamins A and C, riboflavin, potassium, copper and manganese, and because it's also low in saturated fat, cholesterol and sodium.  Ok, right-that's just what I say when I am trying to excuse myself for scarfing down 10 Double Chocolate- Chocolate Chip Pumpkin Muffins. But seriously, pumpkin covers a multitude of  calorie laden sins. I am always looking for new ways to use it.  Also, a can of pumpkin can go a long way, so it's economical.
Here are some of my favorite uses
Pumpkin Smoothie- 1 cup plain or vanilla yogurt, 2 Tbsp. pumpkin puree, cinnamon, nutmeg, and honey to taste.
Pumpkin Ravioli- Use wonton wrappers, or make your own ravioli-fill with a mixture of; 1 cup pumpkin puree, 1 cup ricotta, ¼ cup parmesan cheese, salt and pepper to taste.
Pumpkin Mac Cheese Stir canned pumpkin into your favorite macaroni and cheese sauce (even boxed) mix with boiled elbow macaroni.
Pumpkin Trifle- Mix 1 can of pureed pumpkin, 1 tub of cool whip, 1 tsp. cinnamon together. Layer in a pretty glass bowl with pecans, and your favorite brownies cut into cubes.
Pumpkin Soup- Combine 1 can of pumpkin, 1 can of chicken broth, ½ tsp. chili powder, ¼  tsp. garlic powder, 1 tsp. cumin, ½ tsp rosemary, ½ tsp. parsley, and ¼ cup of water in a small sauce pan. Bring to a boil, reduce heat, add ½ cup sour cream and simmer for 5 minutes.
Pumpkin Hummus- combine 1 can of pumpkin puree with, 2 Tbsp. Tahini (sesame-seed paste), 1Tbsp. lemon juice, 1 Tbsp. olive oil, 1 tsp. cumin, 2 garlic cloves-minced or chopped. Serve with pita chips, pretzels, or veggies. Bake at 400° for 6-8 minutes.
Pumpkin Waffles- Combine 1 cup all-purpose flour, 2 teaspoons baking powder,1 tsp. ground cinnamon- make a well in the center of dry ingredients. Combine 1 cup of milk, ½ cup pumpkin puree, ¼ brown sugar, 1 tbsp. vegetable oil, and 1 egg, Pour into well in dry ingredients, stir until just combined.  Spray waffle maker with non-stick spray and cook for about 5 minutes or until steam stops.
Pumpkin Chili- Mix 1 can of pumpkin and ½  tsp. of nutmeg into your favorite chili recipe. Top with a dollop of sour cream.
Pumpkin Oatmeal – Prepare your favorite brand as directed. Stir in pumpkin puree, and cinnamon to taste, add pecans , walnuts, or chocolate chips for even more
Pumpkin Roll- Personally I just can't beat this recipe - I've tried, trust me. The only improvement I can make is that sometimes, for variety, I stir 2-3 Tbsp. of Nutella into the cream cheese filling.
You can also use pumpkin as a replacement for eggs and oil in your favorite muffins, and cakes. For each egg use 4 cup canned pumpkin instead. This also substitutes for the oil. For oil replace with the same amount of pumpkin and follow the directions.
What are some of your favorite recipes for pumpkin?