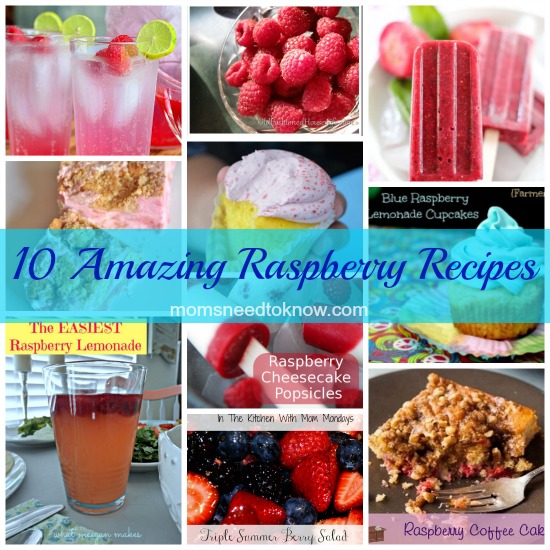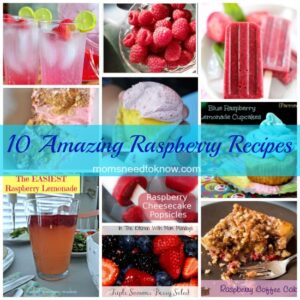 Raspberries area great fruit to start incorporating into your daily diet. Not only do they taste amazing but they offer so many vitamins, minerals and antioxidants. You can eat raspberries fresh, freeze them, add them to your smoothies and much more.
There are so many different ways to use raspberries and today I have a list of the top 10 raspberry recipes!
10 Raspberry Recipes
1. Raspberry Almond Pancakes - What a wonderful and healthy treat for the kids! They will just love this breakfast recipe.
2. Raspberry Coffee Cake - Coffee cake is so good! Add in raspberries and I bet it would be wonderful. This coffee cake would be good with a nice cup of tea.
3. Easy Overnight Oatmeal with Raspberries and Vanilla - this is such an easy recipe to throw together before you go to bed and you wake up with a hearty breakfast just sitting there waiting for you!
4. Triple Berry Summer Salad - This triple berry summer salad looks healthy and refreshing. I can see this being served at the beach, a family barbecue or on a picnic.
5. Chia Strawberry & Raspberry Popsicles - My kids love ice cream during the summer months and these popsicle look like the perfect solution.
6. Raspberry Key Lime Soda - I'm always looking for creative non-alcoholic drinks to service my friends and family. I will be giving this drink recipe a try! If you want to serve it with alcohol in it, I'm sure you could change-up the recipe a little.
7. Easiest Raspberry Lemonade - Another drink recipe that I think will be a summertime favorite around my home.
8. Raspberry Sherbert Bars - I just can't get enough of these healthy popsicle that incorporate raspberries. I'm so excited to try them all out!
9. Raspberry Lemonade Cupcakes - My kids love making cupcakes and I'm always looking for new and unique recipes. This one will go on our list of cupcakes to make.
10. Raspberry Cheesecake Popsicles - I've heard of raspberry cheesecake, but never in popsicle form! I bet these taste so good.
Do you have a favorite recipe that uses raspberries?