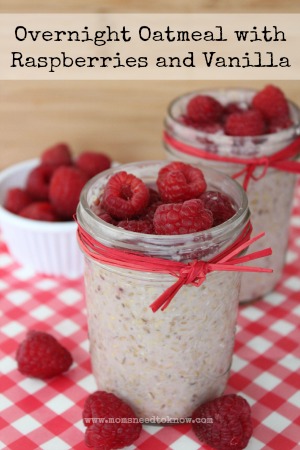 I love oatmeal, especially steel cut oats. They are just so hearty and chewy and can fill you up for a quite a while. The problem is that they take so long to cook. Additionally, now that the weather is warming up, I don't always want to have a hot breakfast but I still want all that oatmeal goodness!
This easy overnight oatmeal recipe with raspberries and vanilla is just the perfect summer breakfast and I love that I can mix it up before I go to bed and have it ready to go when I wake up in the morning! It is almost too good to be a breakfast. I could easily (and have) made this in to a dessert!
To make it you will need (per serving)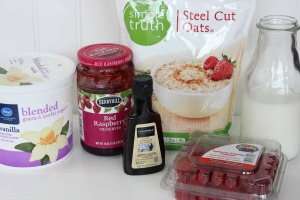 1/2 cup Steel Cut Oats
1/4 cup Milk
1/4 cup Vanilla Yogurt
dash of Vanilla Extract
1 tbsp Raspberry Preserves
1/4 cup Fresh Raspberries
Making it...well - I don't call it an easy overnight oatmeal recipe for nothing!
In a small mason jar (I like to use the jelly jars), combine oats, milk, yogurt, vanilla and preserves.

Screw the lid on and shake well to mix.
Refrigerate for at least 4 hours.
When ready to eat, simply remove lid and top with fresh raspberries.
And that's it! You can't get much easier than that! You get all the heartiness of steel cut oats, some fruit and even some calcium from the yogurt - and don't even need to heat up the house!
You might like these other breakfast recipes: