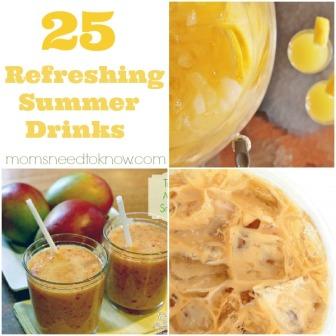 I tend to be pretty boring in my drinks - iced tea, wine, vodka tonics, etc. But for some reason, during the summer months I am looking to change things up a little bit. My father has a house at the beach and both my family and my sisters family descend on the house for one fun-filled week each year. One of the big questions for the week is always "Dad - did you pick out the drink of the week yet?". It's just a fun tradition that we have!
Here are 25 ideas for summer drinks for you for your next party, barbecue, family reunion or even just Sunday afternoon!
1. Pineapple Lemonade Punch
2. Mango Smoothi
3. Iced Passion Tea
4. Watermelon Agua
5. Pina Colada Smoothie
6. Skinny Summer Cocktails
7. Frozen Lemonade
8. Strawberry Basil Lemonade
9. Ginger Peach Soda
10. Strawberry Rhubarb Lemonade
11. Mint Flavored Amla Juice
12. Chipotle Grapefruit Margaritas
13. Strawberry Moscow Mule Cocktail
14. Sangria Summer Punch
15. Ginger Lime Pimms
16. Cherry Mint Shrub
17. Homemade Ginger Beer
18. Horchata
19. Water With Blackberries Lime and Mint
20. Cucumber Lemony Cooler
21. Tequila Cherry Limeade
22. Vietnamese Iced Coffee
23. Blackberry Mint Spritzer
24. Spicy Vodka Lemonade
25. Pineapple Mojito Sangria
Do you have a favorite drink recipe to share?
[inlinkz_linkup id=291095]