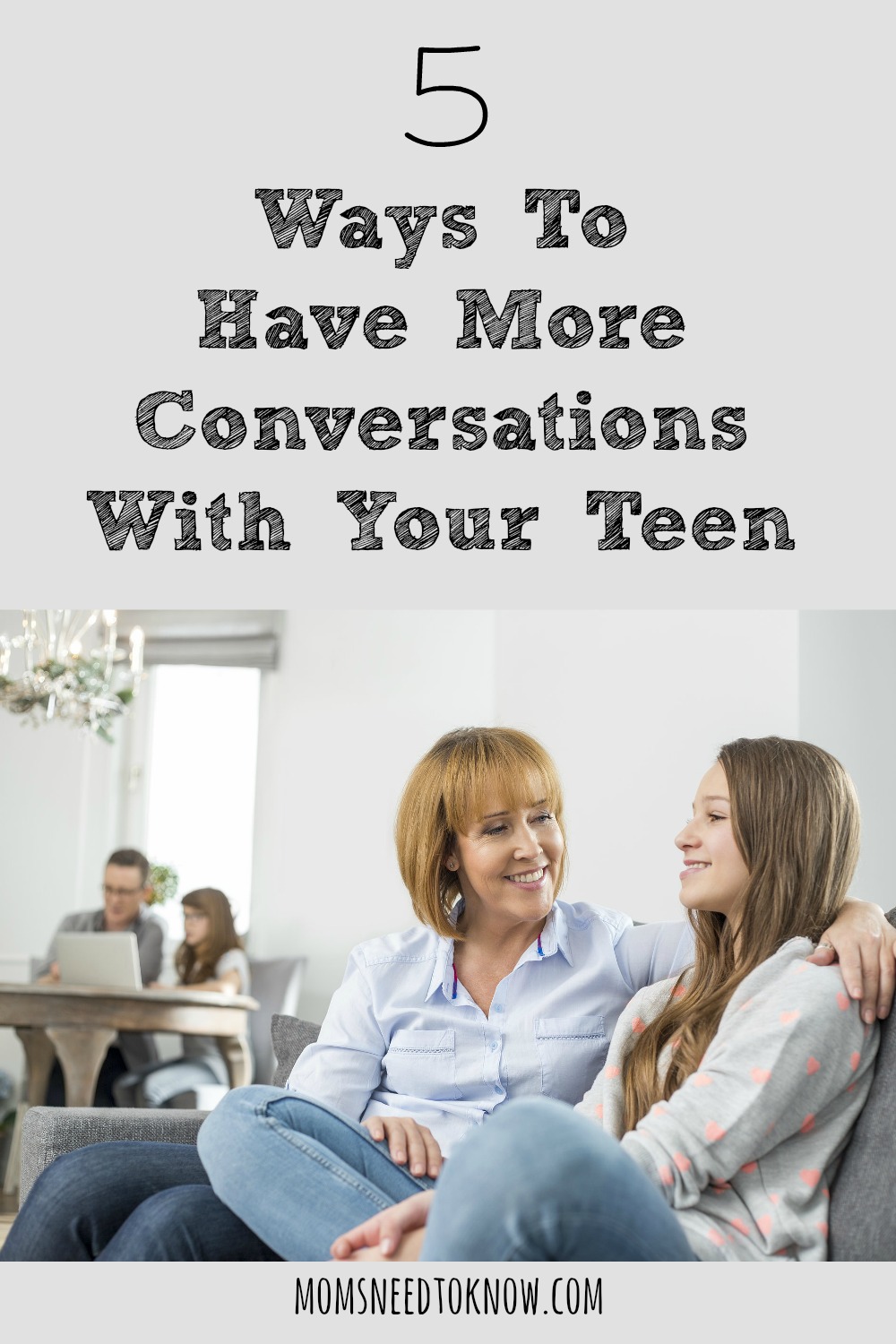 Children are funny - aren't they?  For the longest time, when they are babies, you can't wait to hear their first word.  You marvel and praise them for every new word that they say, no matter how badly they pronounce it.
Then they get a little older and you would give anything if they would just shut up for the 2.5 minutes it takes you to go to the bathroom.
Then they get a little older - and they stop talking....and just when they were getting interesting!
My children are 14, 12 and 9.  My daughter (the 9-year old) still LOVES to talk, but my boys are in that stage where they will give one-word answers unless you press them.  I have a few "parenting role models" in my life and by implementing some things that I have observed them doing, our home is always full of lively conversation!
1.  Play The "Best Part Of The Day - Worst Part of The Day" Game
Every night that we are able to sit at the dinner as a family (which is about 4 - 5 nights per week), we play the "Best Part Of The Day - Worst Part of The Day" Game.  I came up with this idea after watching The Story Of Us (one of my favorite movies), but they called it the "High Low Game".  The idea is that you go around the table and everyone has to tell....well...their best and worst parts of their day.
The beauty of this game is that not only do you get to learn something about your child's day, but it also has a way of putting things in perspective, especially if you have a teen going through (completely normal) "teen angst".  There have been days when my son told me that his "Worst" was that the school cafeteria was out of his favorite ice cream.  We like to remind him that, if that is the worst thing that happened to him, it was a pretty good day!
My children enjoy this "game" so much that they want to play it when we are at other peoples' houses for dinner!  And on the days we can't all eat together (due to church groups or my husband's work schedule)?  We still "play" it before they go to bed!
2.  Talk About The News
You don't need to make every conversation about their inner-most thoughts and fears.  Turn on the news when they are home and when they come in the room (even if they are just passing through on the way to the fridge for a snack), ask them if they heard about whatever they are talking about on the news.  Ask them if they understand the issue and what do the think is the solution.
2. Get To Know Their Friends And Welcome Them To Your Home
I am not talking about being the "cool mom" from Mean Girls.  But you can be a Cool Mom while still maintaining boundaries and rules.
I stinkin' love when my 12-year old goes out to play with friends and the next thing I know, there are 9 of them playing in my back yard.  I give them plenty of space, but eventually I go out in the yard and talk to the boys - making it short and sweet.  I let my children know that their friends are always welcome in our home, just to hang out or even for sleepovers.
By getting to know their friends, we always have plenty of subjects to talk about...."What is Hunter doing?"  "It was so cool seeing Griffin doing a solo during the orchestra concert".  "Jalen is going to Vo-tech to learn X skill.  I know that everyone beats in to you that you should go to college, but did you know that some plumbers earn more than doctors?", etc
3.  Go Back To School
No - not really - but you can do your homework (even if it is just on Wikipedia to "brush up" on the subject) so that you can help them with their homework...and that can spark some fabulous conversations.  Assuming that you have graduated from high school, you have already learned many of the same things that they are learning now and can help them with their homework...or at least talk about it with them.
Even if your teen doesn't ask for your help, there should be nothing stopping you from asking them what they are learning and then you can talk about it with them.
4. Make The Most Of Drive Time
Are you shuffling your children around from practice to lessons to church activities?  Make the most of this time by trying to talk to your children!  Everything from talking about their day, to the new shopping center that is being built to how they are doing in school.  You have a "captive audience" when you have them in the car.  Take advantage of it!
5.  Watch a Television Show Together
Is there a show that you both enjoy (or one that they enjoy that you could possibly watch)?  Pick a series on Netflix and start watching it with your teen - it will give you plenty to talk about.  Jonathan and I are die-hard "The Walking Dead" fans and now we are watching "Lost" together on Netflix and we never have a shortage of topics of conversation (especially with "Lost")
What are some of your ideas for talking to your teens?