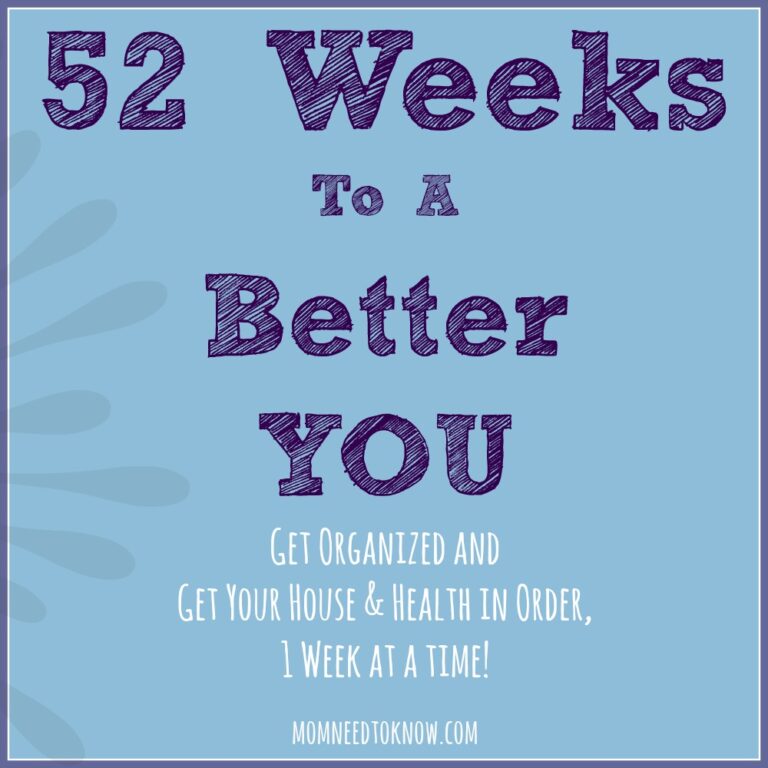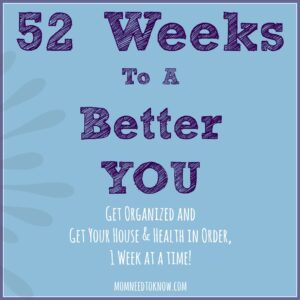 Welcome to the very first installment of "52 Weeks to a Better You!" In this series, we will explore ways that you can simplify your life, find more time in your day, get your house in order and be more healthy and happy!
Of course, this series is kicking off on January 1st and the natural assumption is that this is just another "New Year's Resolution Post". In a way, that is true. But it also isn't.
True change comes not from making a bunch of resolutions on a certain day, but by making small changes that stick, one at a time.  I honestly believe that trying to overhaul your life and habits all at once is doing nothing but setting yourself up for failure.  The small changes may seem like too little, but over time they add up and become major changes!
So what are we tackling this week?
Going to bed at a reasonable hour, at least 5 nights per week!
I have to admit, getting to sleep at a reasonable hour is the biggest problem that I have in my life. I've given you tips on how to get a good night's sleep before, but never followed through on a consistent basis myself.
I wait until the kids go to sleep and then start to write posts for this site and then something happens and I end up in and endless YouTube/Wikipedia loop and before I know it, I have drank almost an entire bottle of wine (more on that in a future week) and it is 3:00am.  The next thing you know, my kids are shaking me awake because they need to get off to school.  I drag myself out of bed, get them out of the house and go back to bed, often until 10:00am!
That is no way to live.
The fact is, not getting enough sleep affects you in every way - physically, mentally, and even psychologically.  I would be willing to wager that anyone who looks at me would think "Man - she needs some sleep!"
If you want to improve your life, you have to be well-rested - it's as simple as that.  It will give your body and mind what it needs to go forward.  That is why we are starting with something so simple as going to bed earlier.
And believe me - it is harder to do on a consistent basis than it sounds!
So here is the goal for the week:  Set a realistic sleep schedule and do everything that you can to stick to it!
For me, this means going to bed by midnight each night and waking up by about 6:15am.
I know that this sounds like it is STILL not enough sleep, but believe me when I say that, for me, this is a HUGE increase in the amount of sleep I am getting.
What is your sleep goal for the week?
Make sure to check back every Thursday for the next installment of "52 Weeks to a Better You!"
This post was part of a 41-blogger collaboration to help you kick off 2015 as your best year EVER! Be sure to check out all these other great bloggers and their tips for simpligying your life, getting healthier, controlling your finances and improving your life!