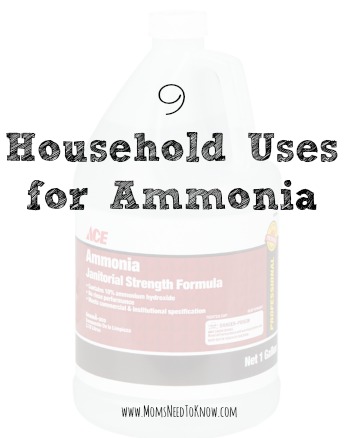 Household ammonia is a very good product to have on hand in a number of situations. Just like baking soda, it is cheap and can be used in so many ways. Although ammonia is a great tool to use, it is absolutely vital that you first consider the safety precautions before diving in.
A few warnings to remember:
First and foremost, you must never mix ammonia with bleach or other household cleaners. The fumes are toxic and can be deadly. Also make sure that any surfaces or areas you clean with ammonia is clear of any other substances. Mixing ammonia with water is really the only way to go. Finally, make sure your ammonia is household ammonia. The kind you get from a lab is far too strong and will very hard on your skin and anything else it comes in touch with.
Now on with the wonderful uses for household ammonia:
Cleaning up Filthy Grill or Oven Racks - Grills and oven racks get nasty rather quickly and scrubbing them clean can be quite the chore. Rather than working yourself to death through elbow grease, ease the way with a mix of a half cup of ammonia and warm a tub of warm water. Let it soak for about twenty minutes and then come back and wipe it clean. Make sure you rinse several times to remove all the ammonia traces.
Stop Bug Bites From Itching - If you are hit with a mosquito bite or bug bite and want quick relief, dab a bit of household ammonia directly on the bite. Use a cotton swab to put it on and only use if you don't have sensitive skin. Again, make sure it is household ammonia and not the powerful unconcentrated version. In the summer, we actually keep ammonia in a little spray bottle right in the kitchen
Make That Crystal Shine - A few droplets of ammonia can work wonders on your crystal when it is mixed with a couple of cups of water. Simply mix it up and apply with a soft rag to bring back the shine you remember.
To Get The Smell Out - Pretty much any odor will bow down to household ammonia. Put out a cup or two in the offending area to eliminate garlic, onion and other kitchen smells. Also, it works wonders in a room that has just been painted.
Eliminate Soapy Residue - To ease the process of cleaning your tub, simply mix a tablespoon of ammonia in a gallon of water. The result will be the cleanest tub in history. Best of all, it will come rather easily because of the ammonia breaking down the soap scum.
Bring Your White Tennis Shoes Back to Life - If you have an old dingy pair of tennis shoes that used to be white and are now....other colors, wipe them down with an ammonia/water mix. The mix should be about half and half.
Alkaline Flowers Plant Food - Ammonia is a key component in Lilacs and other plants' food sources. Mix in about a tablespoon of ammonia with a gallon of water for a good mix. Fertilize the area evenly being careful to only hit the plants that benefit.
The Ultimate Window Cleaner - If you have streaky windows, a 1/3 ammonia and water mix makes a whale of a window cleaner. Why pay the price for the household stuff that contains tons of dangerous things
To Get Rid of Critters - A half and half water/ammonia mix will make the ultimate critter repellent in and around trash cans. Spray the top, edges and sides to shoo away raccoons, squirrels and other neighborhood pests that like to raid your trash can. The mix will cause them to find greener pastures.
and lastly.....
The Jellyfish Debate - Most everyone has heard the old wive's tale that peeing on a jellyfish sting will help it to stop hurting. This is false in every way. In fact, peeing on a jellyfish sting will actually make the stingers continue to fire in most cases. What does help is vinegar, sea water or household ammonia. These solutions are powerful and will do the job nicely. Vinegar is the ideal solution (and don't forget to check out the other many uses for vinegar) but the others will work too. (Note: if you are at the beach and stung by a jellyfish, head straight to the lifeguard stand. Most beaches have their lifeguards keep a spray bottle of ammonia with them!)
What other ways do you use ammonia?