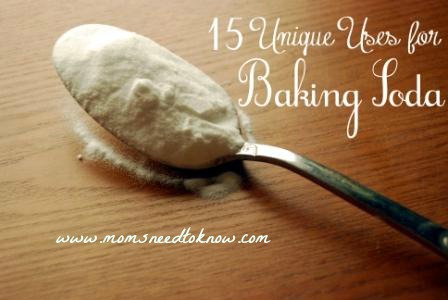 15 Unique Uses for Baking Soda
Baking Soda is an amazing little thing to have in your household. Not only can you bake with it and clean with it, the possibilities with it are almost endless!
And one of the best parts is that little box of Baking Soda costs less than $1. Inexpensive and so useful! Sounds like the perfect thing to keep in your stockpile! But if you are stuck to find uses for baking soda beyond those mentioned above, keep reading! Below you will find 15 unique uses for baking soda I bet you never would have guessed existed.
Use baking soda to get the onion smell out of your hands. Simply sprinkle some baking soda over your hands after you cut up an onion and scrub with water. Then wash off and your hands will smell no more!
Use it to clean the top of your stove. Mix baking soda with a little bit of water to form a paste. Rub over the top of your stove to remove any grime. Wipe off with water and follow by wiping with a little bit of vinegar to remove any leftover streaks and make it shiny.
Use it to clean baby and toddler toys. Fill a sink up with warm water and add 1/8 cup of baking soda. Wash and rinse off the toys.
Keep your shoes smelling fresh. Have someone in your household with smelly feet? Simply sprinkle a little baking soda inside their shoes to keep them fresh and odor free.
Save yourself from itchy bug bites. Did you get bit by a wasp, bee, or mosquito or get into some poison ivy? Make a thick paste with water and baking soda and spread over rashes and bites to keep them from itching.
Have heartburn? Mix 4 ounces of water with a half of a teaspoon of baking soda and drink. Heartburn gone!
Gargle with it! Use the same mixture as the above (1/2 teaspoon baking soda to 4 ounces water) and use as a mouth wash. It will not only keep your breath fresh but it will help relieve the pain from any canker sores you have.
Keep flowers fresh. The next time you get fresh flowers, add a teaspoon of baking soda into the vase with the water to keep your flowers fresh longer.
Un-smell your dish rags. Pour a little baking soda into a sink full of warm water and soak your dish towels and rags, they should lose that "dirty" smell!
Stop the rabbits. Sprinkle a little baking soda around your garden or your flowerbeds to prevent rabbits from entering and eating all your plants and flowers.
Make fluffy omelets. Add ½ teaspoon to each 3 eggs that you scramble and they will come out fluffier!
Clean up greasy stains. Have some oily or greasy stains on your garage floor? Sprinkle baking soda over them and it will absorb the grease.
Use while soaking beans. Do you make homemade beans by soaking dried beans? Next time, sprinkle a little baking soda in with the soaking beans and it will help with the digestion issues such as gas and bloating that sometimes come along with beans.
Remove water rings. Make a paste of baking soda and water and scrub onto water rings on wooden tables. It will take them right off!
Get rid of ants. If you are having a problem with an ant invasion, mix one part baking soda and one part salt together and sprinkle where ever the ants are entering your home.
As I mentioned above, one of the best things about baking soda is that is very inexpensive, and yet still can do all of these things and more!
What are you favorite uses for baking soda?
Make sure to check out my Uses for Vinegar and my Homemade Cleaning recipes posts as well for some more frugal and unique ideas!