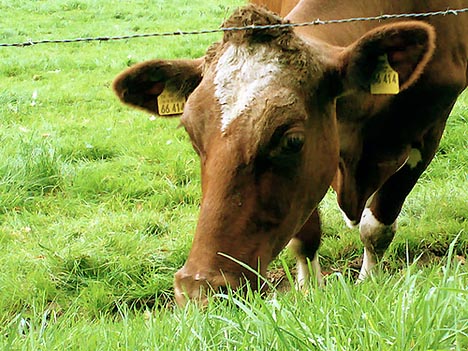 I have received a bunch of questions on the post about me buying 168 pounds of grass-fed beef.  Many of the questions were the same, so I thought, instead of repeating myself over and over in the comments (and taking the chance that some of you wouldn't check back for a response), I would put them all together in one post!
:: Where did you buy your cow?
I bought it from Wholesome Dairy Farm and I only bought 1/4 of a cow.  It was a very large steer and the "hanging weight" of that 1/4 cow was 168 lbs.  I ended up paying just over $675 for a BUNCH of meat!
I thoroughly enjoyed working with Mark (and just FYI - he is one of the few farmers in PA licensed to sell Raw Milk), but I get the feeling that he only has a steer available every few months. I purchased through him on the recommendation of my friend/whole-foods-guru Jo-Lynne. My husband is ready to send out a lynch-mob after her (he still hasn't forgiven her for our first foray in to organic foods..what will forever be known as "The Organic Salsa Incident"), but I love her.
If you are looking to buy organic local meats (or any food) in the Philadelphia area, I highly suggest that you check out Eat Local Philly to find a supplier near you!  If you live outside of the Philadelphia area, check out Local Harvest
:: How much room do you need to buy that much meat?
As Diane said, I needed room for about 2 laundry baskets of meat. However, as I mentioned, I only bought 1/4 of a large steer and she purchased a half-steer. The "hanging weight" of the share of my cow was 168 pounds......use this as a guideline.
:: How is it packaged?
This is going to vary from vendor to vendor, but in my case, everything was packaged in the perfect portions for a family of 4 (1 lb of ground beef, enough of a roast for 1 night family dinner, etc) and was vacuum-sealed. Check with your vendor to see how they are packaging it!
:: You are buying a pig?????
I have no desire to recreate "Babe" in my back yard. I just want to buy a pig (post butchering) from a local farmer. Aside from the fact that my Homeowners Association Board would likely have a heart attack if I kept a pig as a pet, I have no intention of having my kids get "attached" to their food supply! I try to teach them from where their food comes (and that it doesn't just magically appear in the supermarket wrapped in plastic), but I am not going to have my 4 year old ride her next source of pork chop dinner around the back yard! I am SO not ready for that conversation!
Did I miss any questions or do you have another? Leave them in the comments!