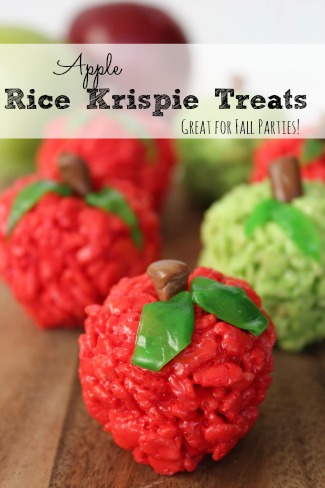 Most everyone loves Rice Krispie treats but they can get a little boring. Of course, most people won't complain if you serve them to them the "regular way", but it is always nice to be able to "fancy them up" for the different seasons. If you remember, we had fun making reindeer rice krispie treats for Christmas, so it was time to make something for Fall. What goes better with Fall than apples?
This recipe should make about 18 Rice Krispie apples and you split the ingredients in half so that you are making 9 green and 9 red apples.  Of course, you can speed up the process by making them all 1 color, but I just think that they look nicer when they are 2 different colors!
INGREDIENTS
6 cup Rice Krispies Cereal
4 tbsp Butter
1 10.5 oz  bag Marshmallows
Red Food Coloring
Green Food Coloring
3 Tootsie Roll Midgees
Green Fruit Rollups
DIRECTIONS
Cut each Tootsie Roll in half. then cut each of the halves into 4 quarters lengthwise (to make at least 18 stems - you will have leftovers).
Unwrap and unroll fruit rollups and cut small leaves out of the rollup (these will be used to decorate the apples).
In a medium saucepan, melt 2 tablespoons of butter over low heat.
Add the half of the marshmallows and stir until completely melted.
Add about 15 drops of red food coloring and mix well.
Add 3 cups cereal and mix well.
Remove from heat and allow to sit about 3 minutes.
Butter your hands or use wax paper to press the mixture firmly into 9 balls.
Insert a "tootsie roll stem" in each ball.
Place rollup leaves next to stem.
Repeat process with remaining ingredients to make green apples.