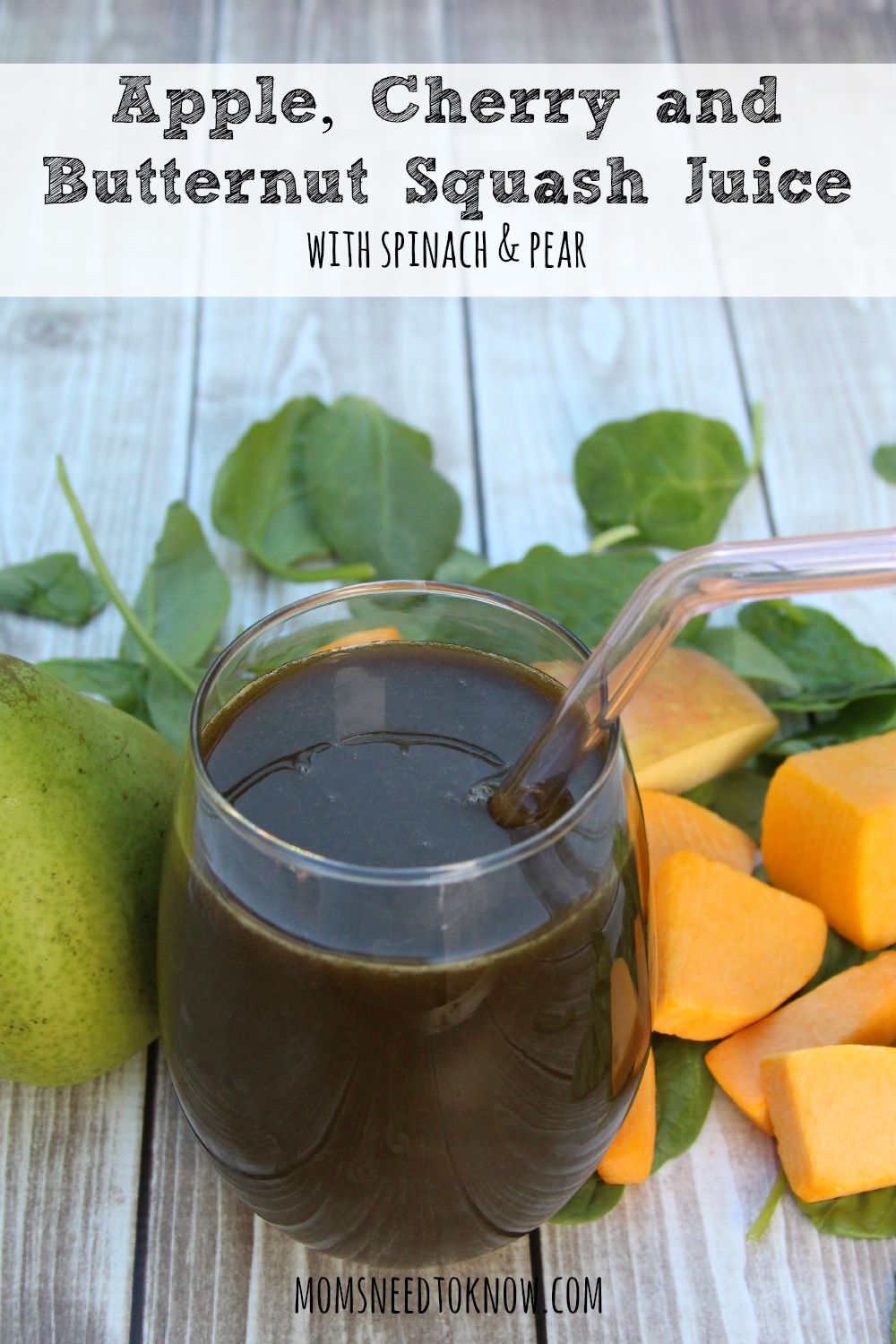 One thing I love about juicing (aside from the idea of getting plenty of nutrients in to my body) is the fresh and vibrant colors of the juices. My liver-cleansing beet juice is just beautiful in color and a simple carrot juice with ginger can be just gorgeous!
Yeah - that's not the case with this juice. While it is very tasty, I will freely admit that it isn't exactly the prettiest juice...but it is still really good for you!
Why?

Butternut squash - contains many vital poly-phenolic anti-oxidants and vitamins. Squash is one of the common vegetables that are often suggested for both weight reduction as well as cholesterol control. Butternut squash has more vitamin A than that in pumpkin. Research studies suggest that natural foods rich in vitamin A help the body protected against lung and oral cavity cancers. Squash juice has a mildly sweet but slightly earthy taste. If you like your juices a little sweeter, it blends well with apples, ginger and carrots.
Apple - high in pectin, they help to cleanse and release toxins in the digestive tract….making it easier for the liver to do it's job!
Pear - rich in Vitamin C, Vitamin K (helps to maintain healthy bones as you age) and Copper (helps to maintain healthy skin and hair). It can also help to lower cholesterol, blood pressure and support good colon health (source). It also works as an added sweetener to your juice!
Cherries - they have been shown to reduce inflammation, boost immunity, and even prevent heart disease (source). Please see my tips below for how to get the most juice out of your cherries!
Spinach - rich in iron, do I really need to tell you the benefits of spinach (or how easy it is to grow spinach at home?)
Before we get to the recipe, let me give you a few tips:
Cherries are not cheap and frankly, they are are a pain to pit in order to juice them. Unless you live in an area where cherries can be dirt-cheap (like the Pacific Northwest), I can usually save money by buying frozen cherries and they are already pitted!
That being said, you don't get a whole lot of juice from cherries. While I usually run all my juices through my Breville juicer, when it comes to cherries, I let the frozen cherries sit out in a bowl until completely thawed and then put them (along with the juice that has been generated in the bowl) in to my Blentec on the Whole Juice setting.
Juicing spinach is really the same problem - you don't get a whole lot of juice out of it, but you still want to get all of those vitamins and nutrients. I will usually put the spinach in to my blender with a little water and blend until it is completely liquified and then strain out any pulp/chunks before adding to my juice. I know that some people say that is "cheating", but I really don't feel like spending $5 in spinach just to get a cup of spinach juice!
Anyway - scroll down for the recipe!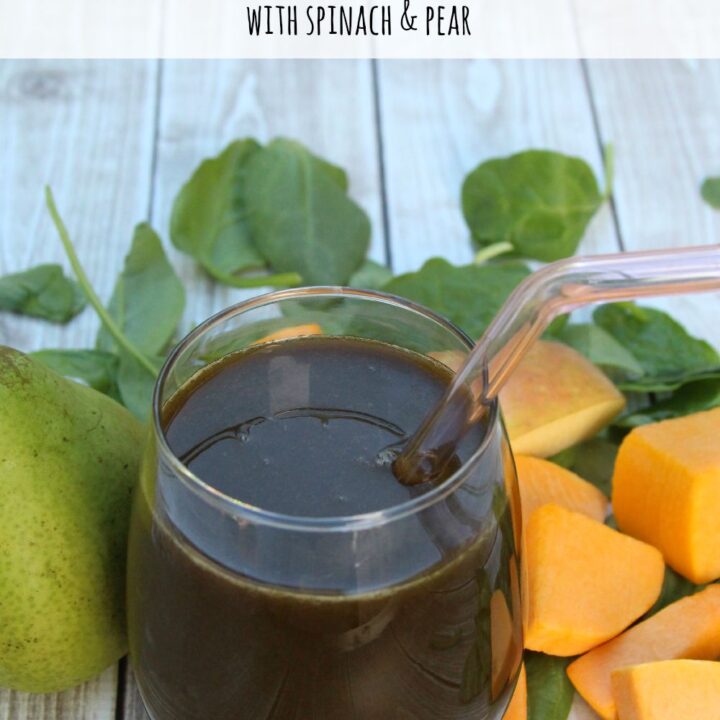 Apple, Squash and Cherry Juice | With Added Spinach and Sweetened With Pears!
This apple, butternut squash and cherry juice is sweetened with pears and has spinach juice thrown in for added nutrition. Not pretty, but it IS delicious!
Print
Pin
Ingredients
2

cups

butternut squash

cubed

1

large pear

1

large apple

try Gala or Honeycrisp apples

1

cup

pitted cherries

see tips above to get the most juice from your cherries

2

cups

packed spinach
Instructions
Place all ingredients in juicer and juice according to manufacturers instructions