It is so easy to make limoncello at home that you will never buy it again. Sweet and lemony, it can be sipped, mixed in drinks or even used in desserts!
One of my favorite "sipping drinks" in the summer is Limoncello.  If you have never had it,  Limoncello is a sweet lemony liquor that is so refreshing and can even help with digestion!
I like to think of it as "sunshine in a glass".
One thing you may not know about Limoncello is that there isn't actually any lemon juice in it! If you were to make limoncello with the juice, it would be very sour. Instead, we infuse alcohol with lemon rind for a couple of weeks, strain it and then combine the alcohol with water and sugar.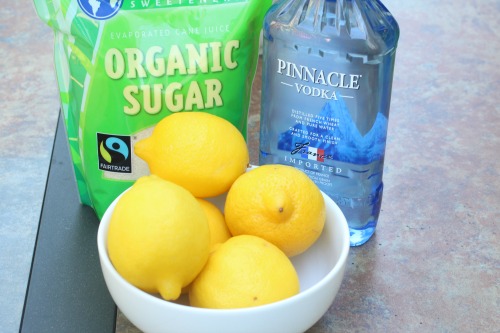 When I decided that I wanted to make Limoncello, the first person that I called was my mother. I knew that she had been making it for years and I wanted to get her opinion on the "great Limoncello debate" - whether to make it with vodka or grain alcohol.
Authentic limoncello is made using grain alcohol (Everclear). However, Everclear makes me nervous because the alcohol content is so dangerously high (151% alcohol is the highest available in my state). I realize that once you combine the infused alcohol with the sugar & water, it is greatly reduced, but still....it is a "mind thing" for me. It's also not legal in 13 states, so I knew that I needed to give about 25% of my readers another option.
My mother assured me that she has made it with both vodka and Everclear and she prefers making it with vodka...so that is how I did it (although I will also give you the proportions if you decide to use Everclear - thanks Mom!)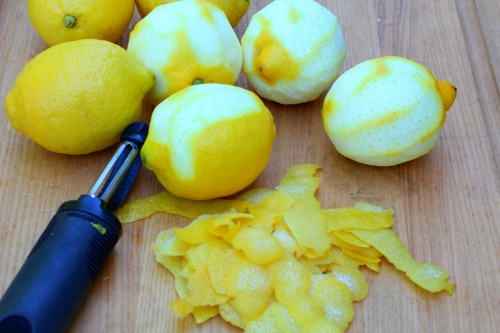 When you make limoncello, one of the most important things to do is make sure you have the right lemons. As a general rule, you want to buy the lemons that you have to purchase individually, not the ones that come bagged for you. Maybe it is just my stores, but the lemons that are sold individually always seem to have a thicker peel and you want lemons with a thick rind for maximum lemon flavor.
Oh - and it you are wondering what to do with the lemons once you have peeled them?  Make a batch of my copycat Chick Fil'A lemonade recipe!
Ok - lets make limoncello - scroll down for the recipe!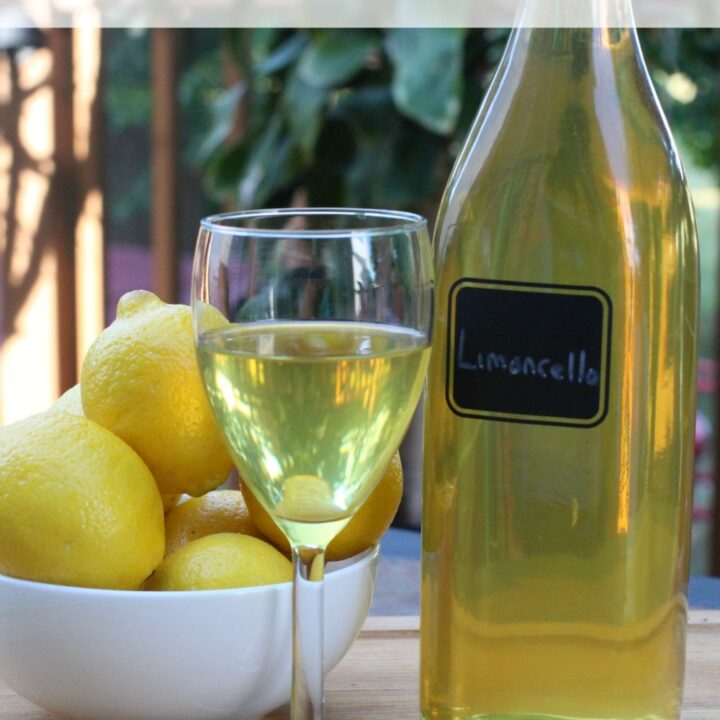 How To Make Limoncello
It is so easy to make limoncello at home that you will never buy it again. Sweet and lemony, it can be sipped, mixed in drinks or even used in desserts!
Print
Pin
Ingredients
If Using Vodka
750

ml

100 Proof Vodka

8

large lemons

4

cups

water

3

cups

sugar
If using Everclear
1

liter

Everclear

10

large lemons

5

cups

water

4

cups

sugar
Instructions
Wash and dry your lemons

Using a

vegetable peeler

, thinly peel your lemons, being careful not to get any of the white pith (it will make your limoncello bitter)

Place peels and the alcohol in a glass jar. Seal the jar and let the mixture steep for 2 - 3 weeks (a good indication that it is ready is that most of the color will be gone from the peels.

Place a strainer over a bowl and place a coffee filter (or cheesecloth) in the strainer (the filter will catch any sediment that would make it through the strainer)

Pour the alcohol through the strainer and discard the peels.

In a saucepan over low heat, combine the sugar and water . Stir and cook until the sugar is dissolved Continue cooking for a few more minutes until the syrup is warmed.

Remove the syrup from the heat and let cool.

Combine the sugar syrup with the alcohol and store in an airtight container.

Store in the freezer for up to 4 months.
How To Make Limoncello